FemTech Products' Popularity And Their Impact On Business
Technology has recently made ground-breaking efforts to eliminate gender inequities. Due to this, a market for female-centric health technology has emerged to support women's health and general wellness.
Maria Shapovalova
August 17, 2022
You must have seen a specific app that focuses on women's issues, or at the very least, and you must have heard about it. These devices are a part of the Femtech movement, which unites technology with health in a significant way. Technology has paved the way in areas such as menstruation, fertility, pregnancy, and sex and reproduction.
The femtech sector is still very new. Despite experts' predictions, the femtech sector will expand rapidly in the upcoming years; and it is still predominantly underfunded. According to projections, the femtech sector will double in size in order to cover additional areas of women's healthcare and technology.
With social media and the changing world, more women are speaking about their experiences and bodies, and topics that were once considered taboo are now being normalized. The current challenge lies in the lack of awareness of the term "Femtech."
Although many of the FemTech products are being used in urban areas, there must be awareness spread among females in rural areas to increase participation. With more awareness, education, and digital literacy, the FemTech industry could be - instrumental in helping young girls and women overcome their problems.
But first, we must comprehend the fundamental ideas behind this dynamic 21st-century concept before examining how it has affected society. Learn more about it in the following paragraphs and why it is becoming more prevalent in contemporary company strategies and initiatives.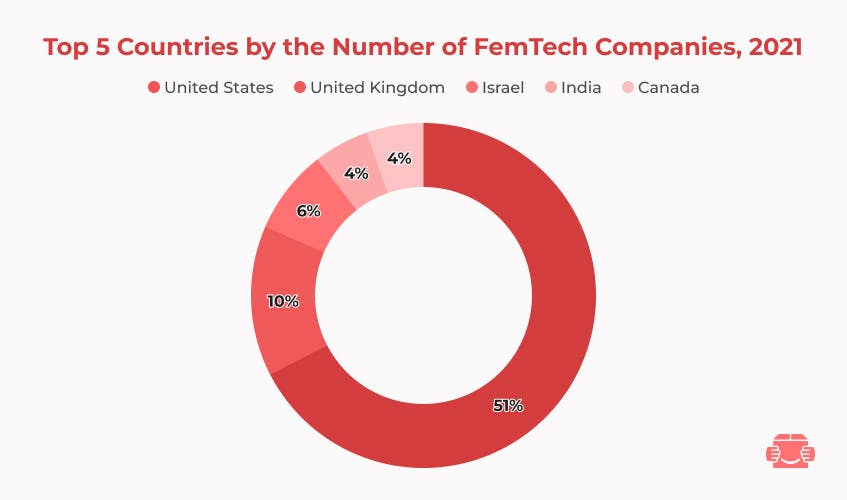 Source: Femtech.Health;
The dawn of the FemTech revolution in 2023
It is not surprising that as women's voices have grown louder, businesses have been under increasing pressure to provide female-centric solutions because the fight for women's rights and a fairer future for everyone continues, even in 2022.
Growing companies are quickly establishing a sizable sub-sector of the tech sector, and investors are becoming increasingly interested in the goods and services catered to women's historically unmet requirements.
In the past, it was men who created and marketed the majority of goods for women's health and welfare. But what better way to have these things designed than by the real end-user?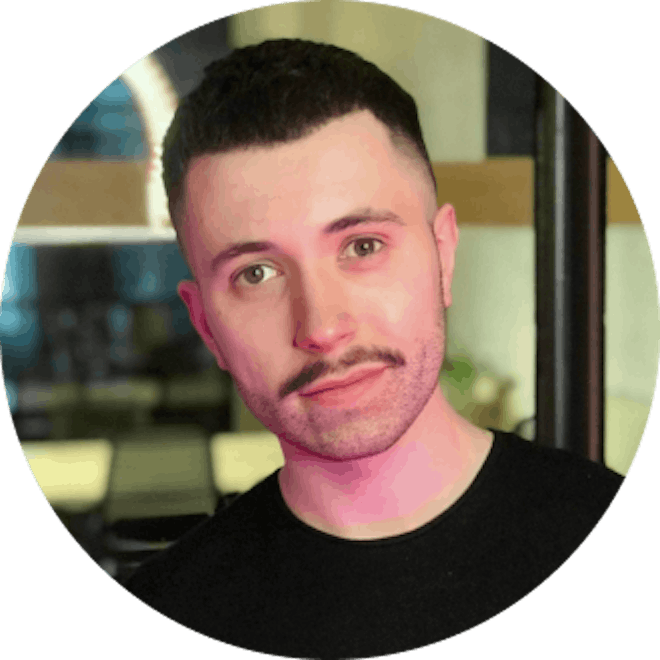 🚀
👋
Create custom femtech product with Voypost
Want to learn how popular female-centric healthcare software is? Are you interested in how to make profits out of them? Get a consultation at Voypost and learn how to make your dream app profitable!
Start a Project
The term "Femtech" was popularly popularised by Ida Tin, the creator of the period tracking software Clue, based in Berlin, "as a method to help to legitimize the female health tech business, thus driving forward innovation, attracting investment, and helping to normalize talks about female health."
FemTech concentrated on menstruation and fertility but has branched into other markets like fitness, mental health, and sex technology. FemTech, to put it, is any program, item, or service that makes use of technology to assist women in leading healthier lives.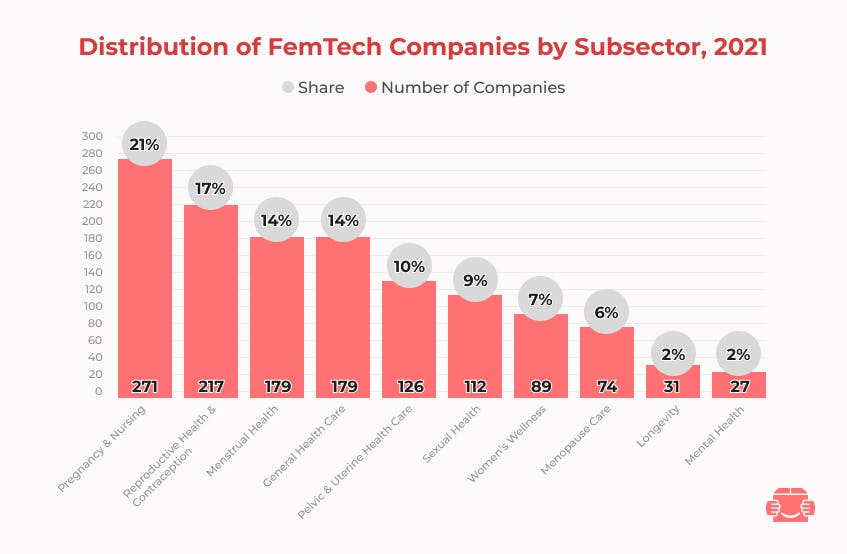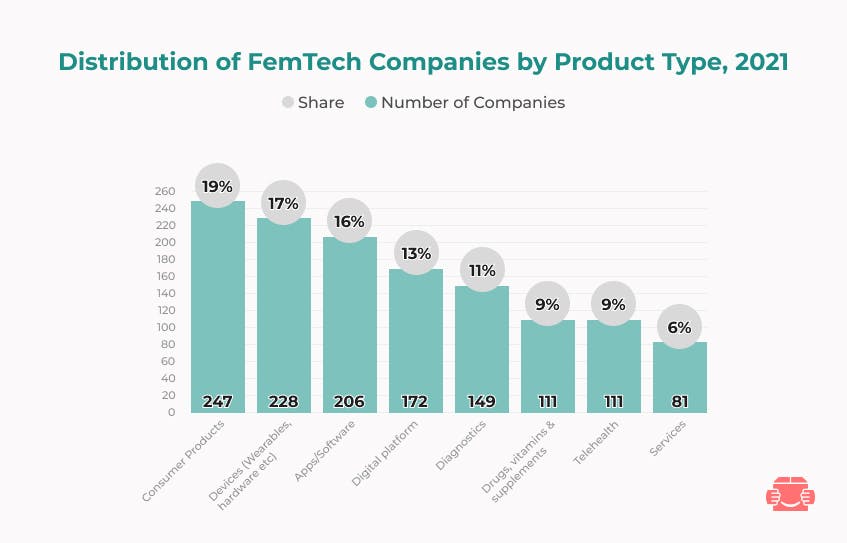 Source: Femtech.Health;
It provides a wide range of treatments to enhance healthcare for women in relation to a number of conditions specific to women, such as menstrual health, pelvic and sexual health, fertility, menopause, contraception, as well as several general health issues that disproportionately or differently affect women (for instance, osteoporosis or cardiovascular disease).
Over the past five years, the worldwide FemTech market has been growing gradually but steadily. There has been a growth in public awareness, business creation, and investment.
FemTech Impact on Business
Over the past few years, both domestically and internationally, FemTech has been an increasingly popular topic for investors. In the wake of the pandemic, this industry—which serves the health requirements of women—has grown exponentially, much like the larger health tech market.
Compared to the $774 million raised in all of 2020, Rock Health's tracking shows that investment in digital health start-ups serving women and people who identify as women will reach $1.3 billion by August of 2021. Despite that increase, health-tech spending only represents 7% of the budget in 2021 instead of 11% in 2019.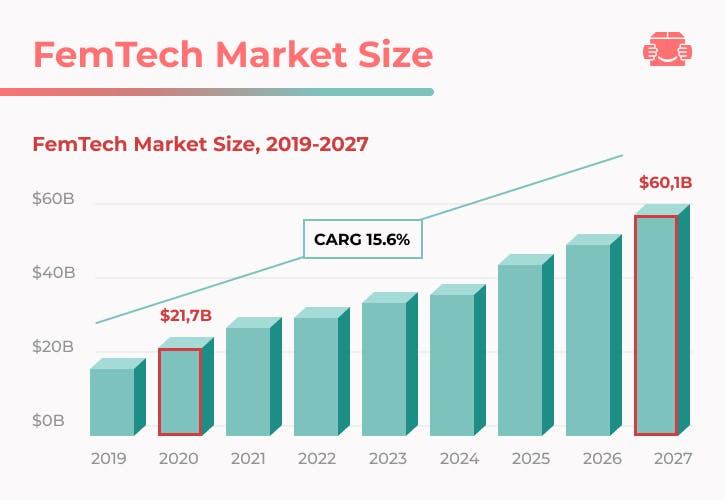 Source: Fortune Business Insights;
Women's health is becoming a crucial growth area for international companies as a result of the she-emergence economy and several cultural changes. FemTech Analytics stated that while the sector barely reached $100 million annually in 2013, it is anticipated to exceed $60 billion within the next ten years. This is in accordance with a recent industry report, which projects the FemTech market to grow at a CAGR of 15.6 percent from 2019 to 2027.
FemTech's research covers a wide range of topics, from sexual wellness to easing patient anxiety about going to the gynecologist, and it is constantly developing. A 2017 Crunchbase poll indicated that healthcare is the primary industry in which women launched 17% of all tech start-ups, and that percentage is rising. The availability of items like birth control and fertility testing is being improved through new applications and direct-to-consumer businesses.
Half of the World Population will Need FemTech Products
Innovation and funding have always been deficient in women's health. Despite making up 51% of the population, there are overwhelmingly few resources and studies focused on illnesses that disproportionately affect women. This can be attributed to the lack of data on women's health, as the majority of medical research concentrates on men and extrapolates its findings to women. Women are more prone than men to die from heart attacks because of this. Women have distinct symptoms from men, which are mostly unexplored. Women have been unable to receive proper healthcare that meets their needs due to a lack of investment in women's health-related items. Fortunately, this is altering.
The number of tech-savvy start-ups creating ground-breaking goods for women and revolutionizing how diseases are diagnosed, including pregnancy, miscarriage, parenthood, and menopause, has increased at an unheard-of rate. The availability of goods made to meet their requirements has sped up the transformation of women's health. It is high time for women to have more control over their health and well-being.
FemTech Market of Opportunity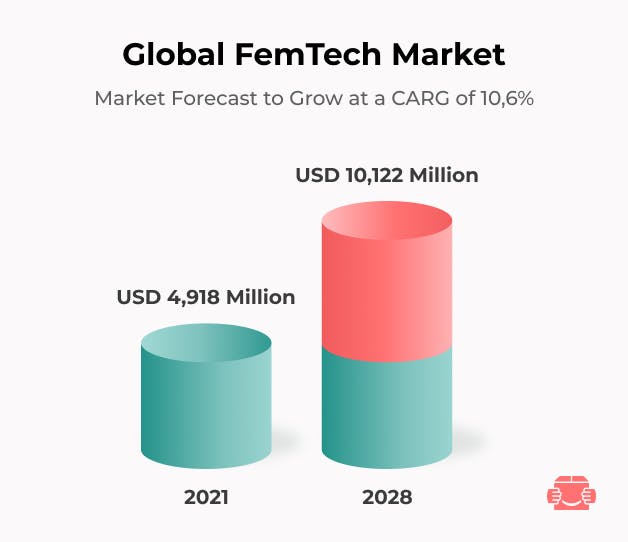 In 2021, the size of the global femtech market was estimated at USD 5 Million. From 2022 to 2028, this market is projected to increase at a CAGR of 10.6 percent. The large market growth will be attributed to rising health consciousness among women and the proactive treatment of women's health issues. The birth of start-ups specializing in women's health, rising disposable income, digital literacy, smartphone penetration, internet connectivity, and digital health infrastructure all give profitable prospects to new and existing market participants. The availability of smart wearable technology is expanding, which is fostering market expansion. To solve concerns related to women's health, health tech developers and investors are making the most of unexplored potential and funding creative product development initiatives.
Key Investment & Product/Market Development Trends:
According to industry journals, about 45 and 50 new start-ups focused on women's health were created in 2020, and between 2020 and 2021, these start-ups raised over USD 2.5 billion in funding.
In 2020, financing for start-ups in the field of digital health with a female demographic increased by almost 105%. This indicates that the FemTech market is expanding, offering new corporate growth opportunities in the next few years.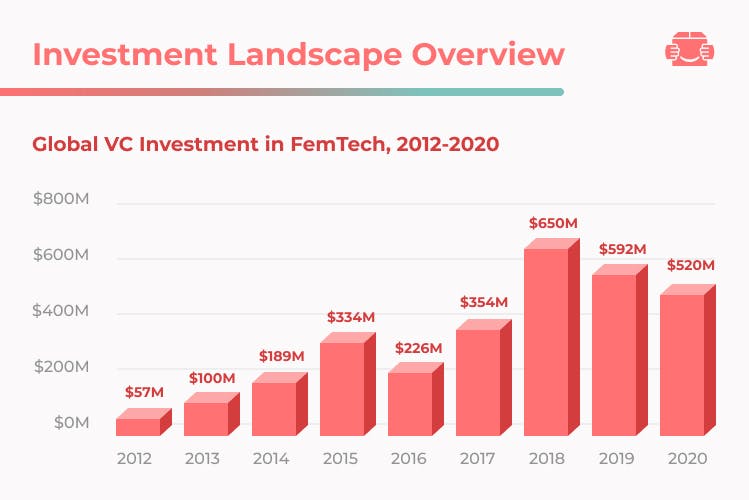 Source: Pitchbook data;
Only 4% of life science tech investments currently go toward female-specific health tech. A total of $520 million in venture capital was invested in FemTech in 2020, a modest down from the $592 million invested in FemTech in 2019.
The industry's dismal record of major exits is one of the reasons it doesn't receive significant VC capital. Nevertheless, overall venture capital investment in femtech start-ups has multiplied since 2012.
How to Profit From Your FemTech Company
Realizing the sector's enormous potential is one of the key drivers of FemTech's development. Despite rising interest in recent years, the industry is still undervalued and has enormous room for expansion.
The 3.8 billion women in the world have a combined purchasing power of $20 trillion per year, control about 85% of daily household spending, and make more than 80% of healthcare decisions. According to a report by the non-profit organization FemTech Focus, the potential of the FemTech market could reach $1 trillion.
To determine how to benefit from your femtech company, we must first decide what elements influence the femtech market.
Long-term opportunities to fill this industry's revenue gaps include taking advantage of the smartphone market, fast advancing internet connectivity, rising health consciousness, and awareness of the unmet healthcare needs of women.
Which FemTech Product Can Become a "Business Shark"?
Some of the most popular start-ups today are those in the FemTech space. Although it refers to a concept that has been around for a while, the word "FemTech" itself is in vogue.
Most of the time, the businesses we identified were also started by female entrepreneurs or had a female CEO. That goes against every stereotype: women lending a helpful hand to other women.
Some of the FemTech Products that are hugely popular and could grow into multi-millionaire businesses include hygienic pads and tampons, nursing monitors, and apps that connect home-makers and offer virtual fertility clinic services, among many others. 
Here are some of the top tech start-ups that are scripting success stories with the recently mentioned products:
Femtech Start-ups by Type and Therapy Area in 2022
An audio app for women in Asia that is sensuous. Women who want to hear personal and compelling audio stories can do so with a simple monthly subscription. What Audible and Spotify did for music and audiobooks, they are currently doing for the sexual wellness of women.
Curing the root cause of IBS, autism, ALS, and multiple sclerosis via the gut microbiome.
A medical device company that created a blood-testing tool for circulating tumour cell isolation and analysis for early cancer diagnosis and treatment monitoring.
Private social health networks to empower and connect patients, boost compliance, and enhance results. Available in 20 languages and 102 countries.
Maximizing senior citizens' quality of life and assisting them in keeping as much of their independence as feasible.
Eradicating the stigma associated with menopause and empowering women with top-notch, evidence-based care, education, and community.
For the 1.5 billion women worldwide with hormone abnormalities, a social network and digital coach based on scientific research.
Private social health networks to empower and connect patients, boost compliance, and enhance results. It is available in 20 languages and 102 countries.
Сonclusion: Why FemTech Matters?
What will encourage women to spend money on themselves and not just others? That is the question that the best business models will have to address as of right now. The hospital, large insurers, and employers won't start paying attention until then.
Why is FemTech important? Women comprise more than half of the world's population, to start. Furthermore, they have an extraordinary level of consumer power. Women drive the world economy. According to the Harvard Business Review, women are directly or indirectly responsible for 72.8% of US consumption. "women make 85% of all consumer purchases. Women currently control $20 billion in annual global consumer spending, and in the next five years, that amount could reach $28 trillion.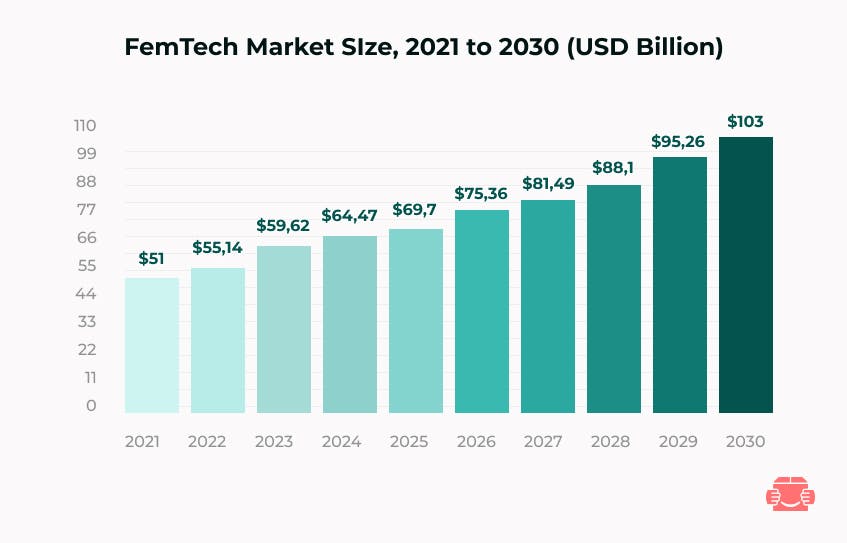 When you consider these factors, together with the fact that female health technology has previously received little attention, the sector is particularly primed for upheaval.
All of the start-ups in the women's health sector that are now active and that our industry discusses are relatively new. Each of them is younger than ten years old. They have all recently come into existence in the past two to five years. Because technology has entirely dominated every facet of our life, people have started recognizing some places where it has failed. Women's health is one of them, thinks Lea von Bidder, the co-founder of Ava, a mobile application for tracking cycles.
A "big picture" gender parity perspective clarifies that FemTech is important. On a smaller scale, the FemTech movement has increased the options available to women in the tech industry. Female investors are also well-positioned for success in this field "thanks to their instinctive understanding of products and services from a variety of standpoints, whether it be design, engineering, or workmanship."
Recommended Readings: