Top personal CRM apps: overview 2022
In this article, we'll review the TOP 5 popular personal CRM tools based on a few criteria: availability, features, integrations, UI/UX.

Natali Savenko
May 20, 2022
As software development had begun to gain traction all around the world, all kinds of applications began to appear. Contact management was not an exception. Later, mobile CRM apps and various types of CRM began to appear.
Why do you make notes, meticulously jot down every phone number, addresses, names and birthday date, and any information you can scrap about the relatives of a given acquaintance?
Short answer: because you care. There was a reason why John Rockfeller kept notes about everyone and everything concerning his social circle. Good memory is not enough, and a great notebook is not enough either, as it turned out.
Nowadays, given the state of programming tools, a talented amateur can build custom CRM software all alone. It goes without saying that CRM software development cost, in this case, is minimal and the level of personalization is ramped up to the ceiling. Do you have to go as far as building custom CRM software or going for CRM development services for maximum efficiency? Surely not, there are dozens of solutions. Unless you are a business magnate, a free personal CRM will do for starters.
What is a personal CRM?
While enterprise-scale CRM systems are used to provide a shared environment for team collaboration among other things, personal CRM solutions aim at satisfying humble ambitions of a single specialist or entrepreneur. A personal CRM, by definition, is meant for a single user. On the contrary, large CRM systems like Salesforce assume that multiple professionals of different levels will work with a single customer. For that matter, it might not even be appropriate to call them "customer relationship management" apps, preferring instead the notion of "contact management" apps.
Why use a personal CRM?
The purpose of such applications is evident: don't keep everything about everyone in the head or in the form of notes and business cards scattered all around the place. Upload and synchronize all contact data from social networks and other sources, engage in meaningful networking, gain exposure, and scale your business.
Best personal CRM apps comparison
If you are looking for a free personal CRM, there is a rich variety of simple apps that do the job. In particular, Dex, Covve, and Notion – that are also on our list below.
Some people are convinced that the best CRM for a single user is the one that is free. Obviously, if a project is abandoned, and its creator no longer relies on any profit from it, the users suffer from the lack of support, vital compatibility updates, and new features.
Open source personal CRM software is an alternative to paid apps. Some of them require the skill of file repository management, some of them look old but overall their quality might just match your expectations. Check out Kontact and Osmo for Linux, My Personal RM for Android, NextCloud for web, or Monica.
Clay
Cost: 14-day trial, $199/month Basic plan, $349/month Explorer plan.*
Clay provides a variety of tools that relieve a single user from the necessity to build a CRM from scratch or acquire costly solutions from the market behemoths, like Salesforce or Hubspot.
It fits any user who has to scour through dozens and hundreds of accounts and data entries as a part of their job: human resource managers, business analysts, marketers, and the like. Clay pulls up data from social networks and other websites and aggregates it in tables for further processing.
Interconnectivity matters for any personal CRM app, so Clay team emphasize their app's ability to link to more than 20 third-party apps with more on the way. All of that, wrapped in convenient interface to run the routines that were previously a privilege of skilled users in a couple of clicks.
Basic and Explorer plans allow a user to keep multiple 2500- or 5000- entry tables respectively.
The custom plan is stuffed with even more features for developers, plus the previous tier's features. It currently includes the top CRM apps support (HubSpot and Salesforce), Postgres database integration, and Zapier integration.
The app's support, likewise, scales with chosen plans. The custom plan users benefit from the support of a dedicated Clay engineer.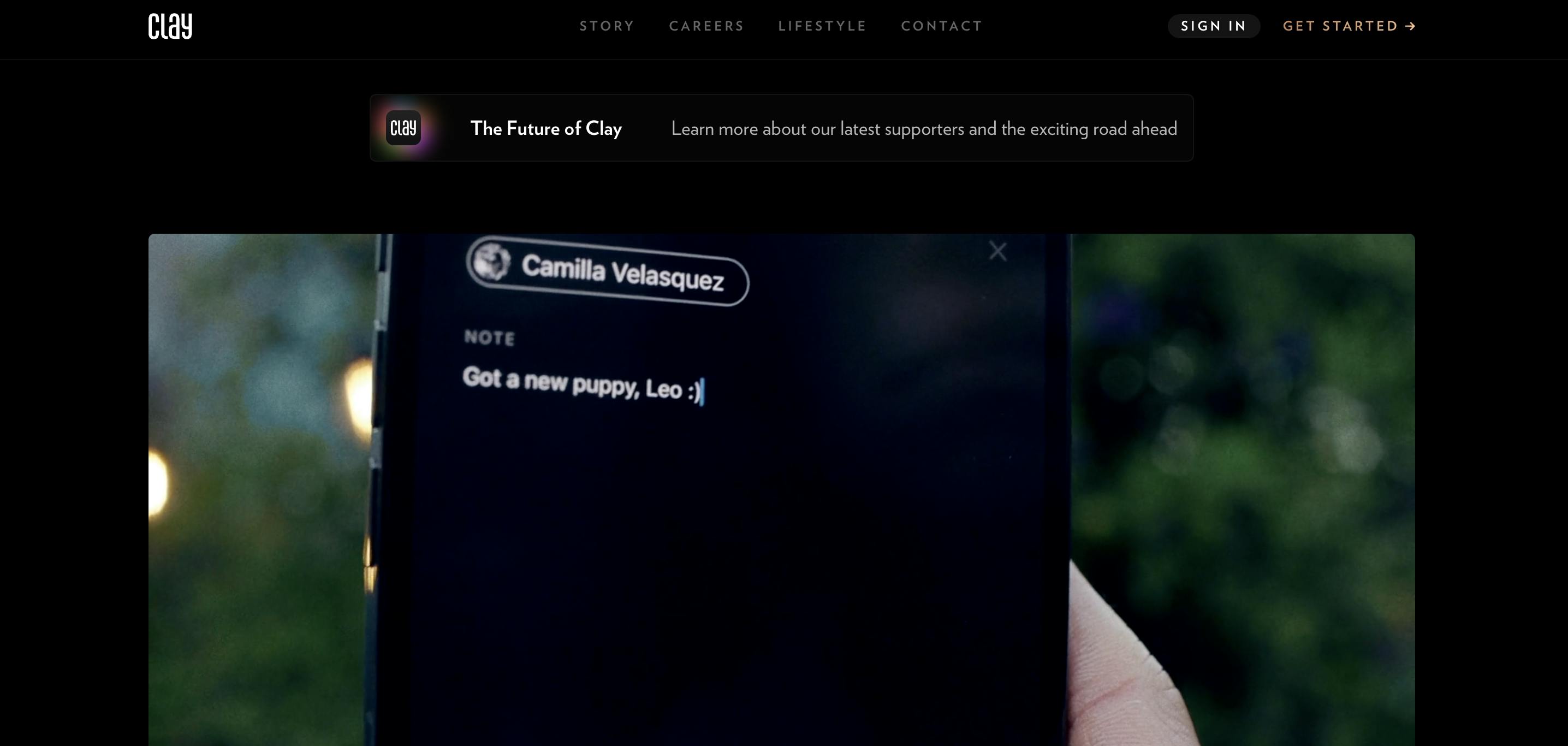 Clay CRM use cases
The most general use case of this personal CRM app is data collection: connect any compatible source and Clay will populate its table with contact data, account statistics, searches, or anything else available through a given website's API and relevant.
Clay is used for community engagement tracking, sales, and recruitment.
Clay pros and cons
✅ Available as a browser extension.
✅ Wide range of built-in functions and integrations.
❌ No free version; expensive unless used to the fullest.
❌ No native mobile app.
Covve
Cost: Free, $9.99/month Pro version.*
We have just discussed the demand for an Android CRM or a CRM app for iOS: such a format is a lot more convenient for atomic tasks that can be finished on the go. Covve is one such app.
Covve is closer to personal contact management software than to a personal CRM tool, according to the respective definitions.
It keeps notes and reminders about your acquaintances, clients, or business partners, so that you don't have to keep them in your head. It also emits smart notifications (pro version) if you haven't reached out to the audience in a while.
One of the tabs of the app is dedicated to topical news to keep you updated before making a call.
Covve also provides some fun statistics concerning your network and productivity.
But the actual innovations that the users praise Covve for, is its business card scanner and digital "contactless" business cards. It is an accurate, simple tool to digitize paper business cards with your device's camera and share your own contact data with fellow Covve users.
The Pro version will also allow the users to make backups and export the contacts, beside removing the limits to the total number of connections and business card scans.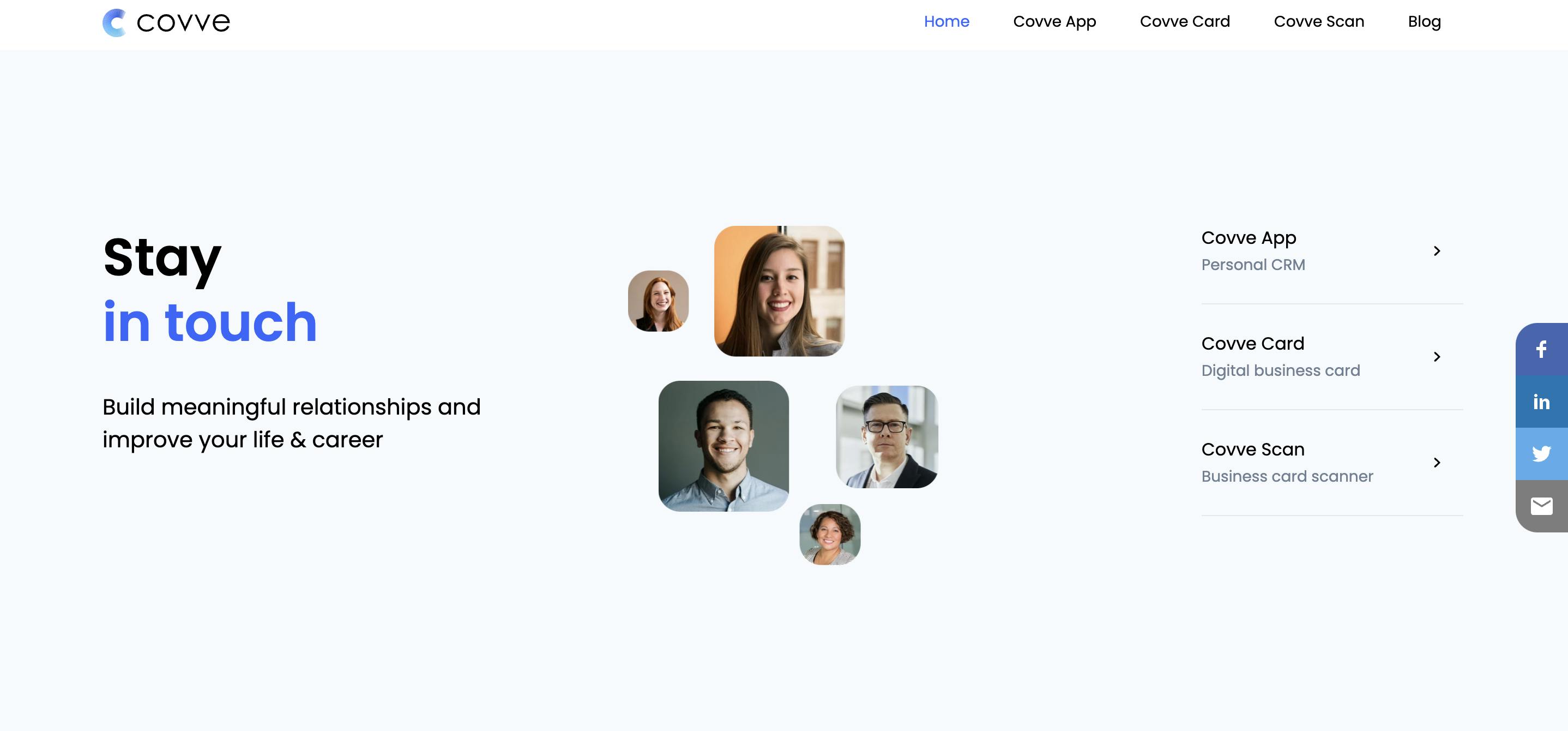 Covve CRM use cases
Lightweight mobile CRM apps are meant to be portable and fast. Yet, they are somewhat restricted in functionality, and the natural display size restrictions introduce their own challenges.
Covve best fits startup and SMB founders who have just started to build their partner and client network from scratch. The pro version sets no upper limit to the total number of connections. Still, while the contact list is relatively short to handle in person, there is no need for advanced tools and automation.
One could, without a doubt, use it for non-commercial purposes, like keeping vital notes and reminders about friends and neighbors.
Covve pros and cons
✅ Simple to use, virtually no entry barrier.
✅ Free version with limited features.
❌ Performance and features slightly differ between iOS and Android.
❌ Lacks automation and integrations.
FollowUp
Cost: Free, Custom plan.*
Niche solutions deserve their place in our review, too. FollowUp is meant specifically to be used in construction business.
FollowUp developers admit upfront that their solution is fairly complex and that a user would have to take a mentorship course to be able to use it efficiently. The best CRMs require skill exactly because of their functionality.
The app includes Sales Tracker, Bid Log and Tracker, Scheduling tools, Lead Tracker, Pipeline management, Integrations, Proposal Generator, and Reports & Analytics. On top of that, there is an option of requesting full-time Customer Success Manager's services to streamline the process of implementation.
Judging from the number of positive testimonials, custom CRM software for niche applications like this is pretty popular.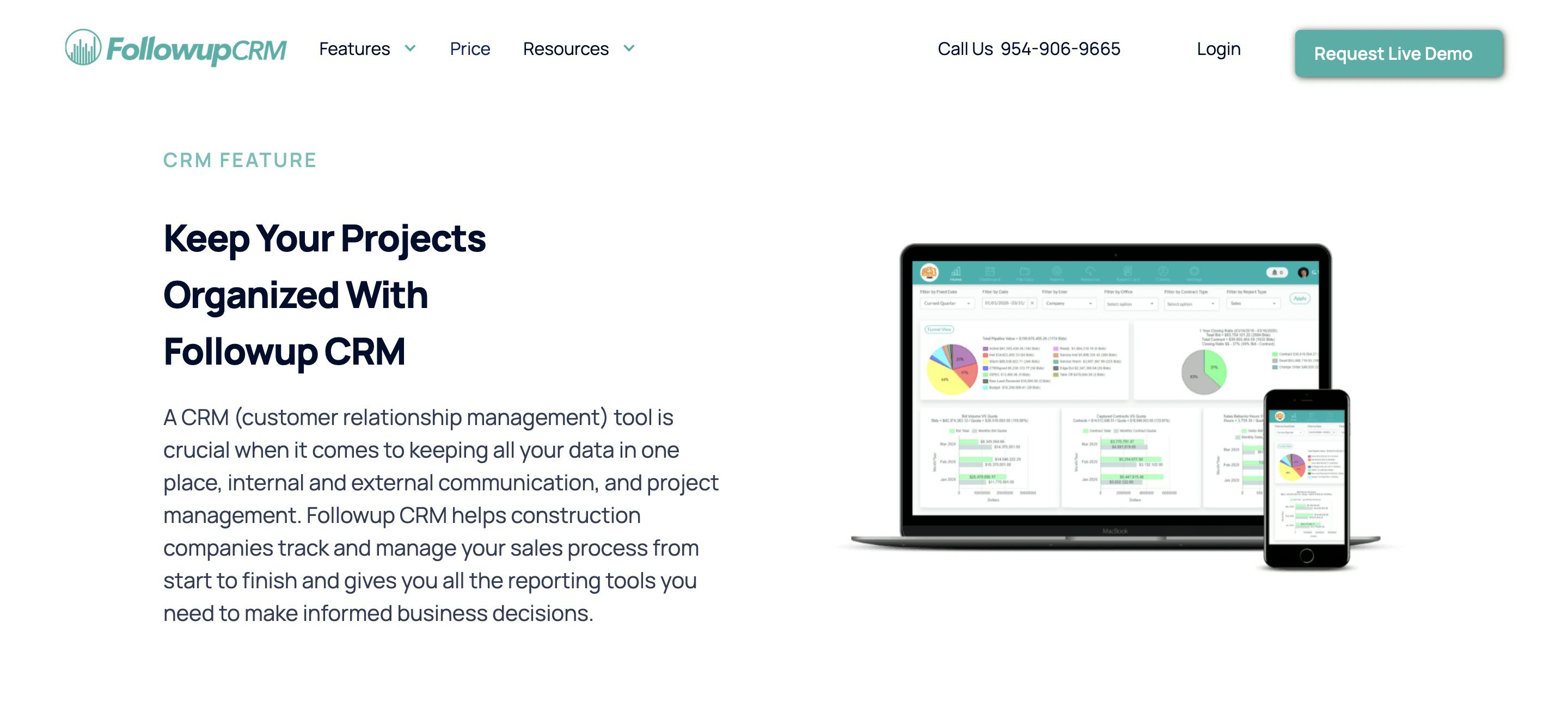 FollowUp pros and cons
✅ 30-day money back guarantee.
✅ "Built for non-tech savvy construction people".
❌ Paid version only; might require continuous support.
❌ Not suitable for general, daily use purposes.
Dex
Cost: Free, $10/month Premium.*
Dex is probably the most versatile contact management app: it comes as a PC app, an extension, and a mobile app for both iOS and Android.
The features are comparable to those of Covve: 100 contacts in the free version (including the 15 with a keep-in-touch feature, similar to smart notifications), unlimited notes and reminders, and access to all three platforms: web, PC, and mobile.
The paid version removes the contact limit, enables importing from LinkedIn, Facebook, Twitter, Instagram, and other media, adds calendar synchronization and email notifications, and introduces priority support. No worries that an app will mess up contacts from different sources and you'd have to sort them out manually – it removes duplicates.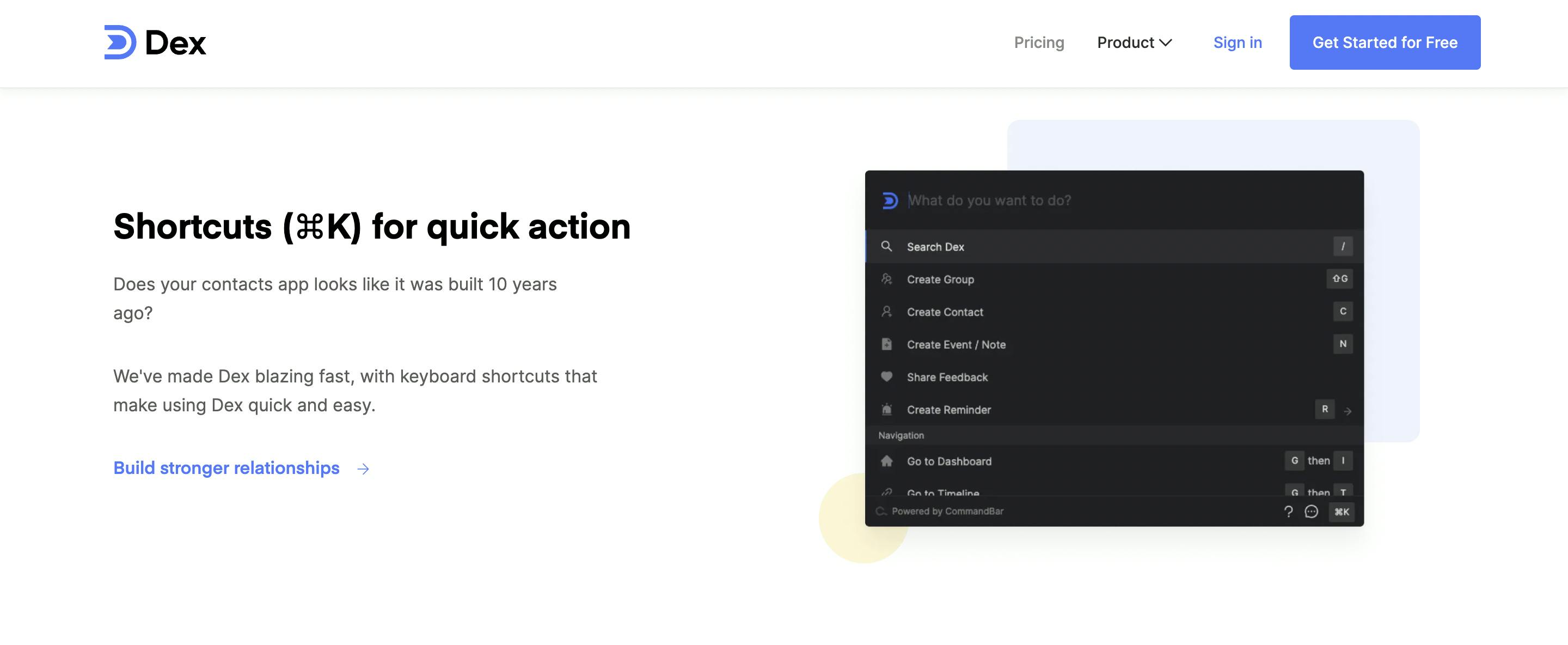 Dex use cases
Dex makes it clear which audiences it is going to be most helpful for. MBA Students should start building their networks and familiarize with personal CRM apps to be able to recognize best contact management systems and transition to them later. Art creators need CRM networking features to facilitate trade and popularize their art. Likewise, investors need a contact management app to navigate their contact book, full of addresses, emails, and phones of partners, product owners, schedules, and notes.
Dex pros and cons
✅ User-friendly, clean design.
✅ Cross-platform.
❌ No advanced features to streamline sales and massively popularize a product.
❌ No account analytics or insightful stats.
Notion
Cost: Free, $4/month Personal Pro, $8/month Team, Custom.*
Notion is basically a spreadsheet with bells and whistles. It is not designed to exclusively handle customer relations or contacts; the application area is much wider.
Notion offers a sandbox environment to construct the so-called workflows depending on a users' needs. The construction blocks are to-do items, text boxes, images or gallery items, status bars, and so on. Using these, it is possible to build a personal CRM system that corresponds to individual needs of a given user.
Instead of making the best personal relationship management app how they see fit, the users might go for the personal CRM Notion template. It is ready-made and free.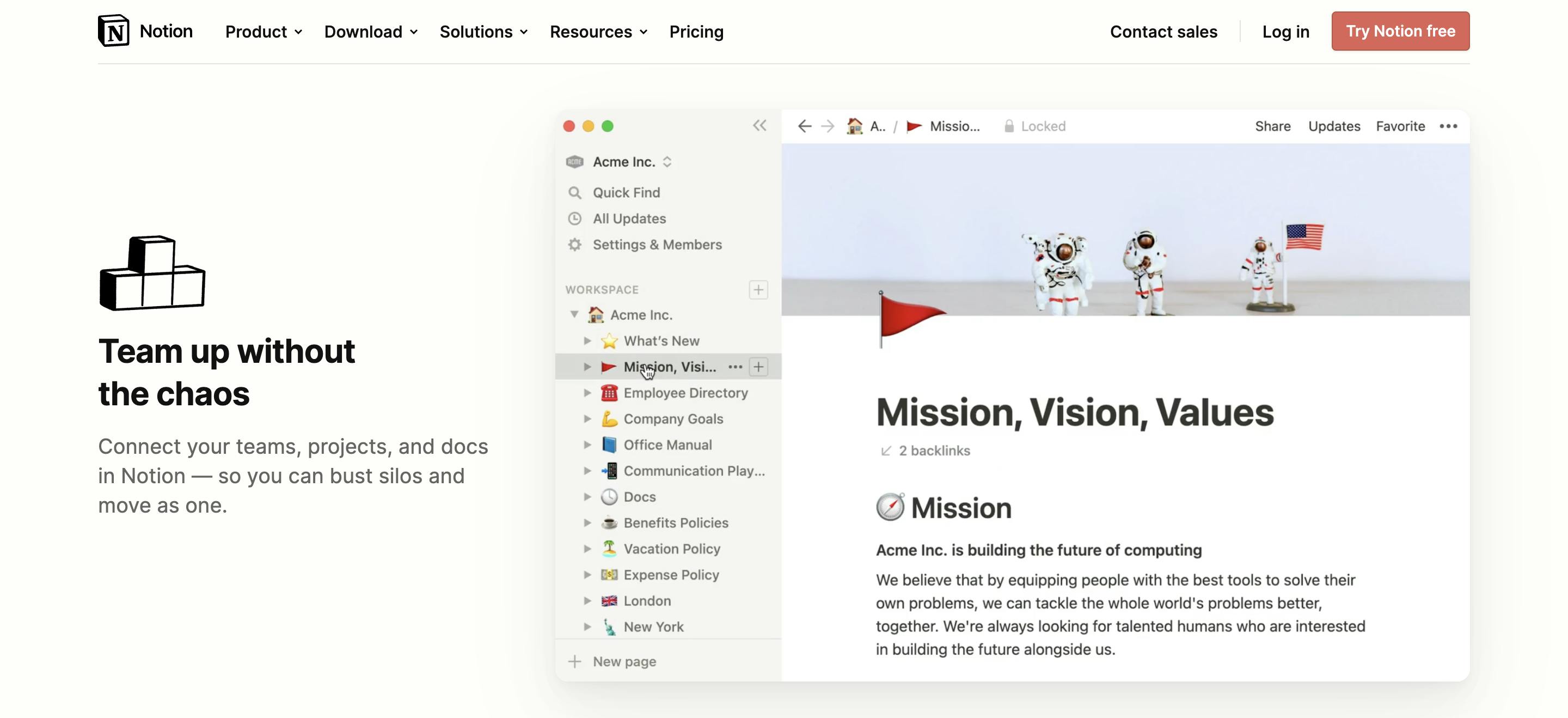 Notion use cases
The Notion's advanced note-taking system is fit for writing down "budget, recipes, articles to read", a travel diary, and, of course, a personal CRM notes.
The range of possible use cases of Notion is nearly limitless because of its flexible block system. However, it is far from perfect when it comes to scaling business, synchronizing contacts, and linking to external services. It is not meant specifically for marketers and entrepreneurs.
Notion pros and cons
✅ Ultimate flexibility in design, functions, and visual appearance.
✅ Free for personal use.
❌ Lacks advanced contact management functions.
❌ Lacks specific marketing-related features.
Nimble
Cost: $19/month per user billed annually or $29/month per user billed monthly, with trial.
It is alarming to see a personal CRM app cost twice as much as the other basic personal CRM apps on our list. Nonetheless, the price is justified.
Nimble aggregates all incoming emails from different addresses into a single inbox and links conversations to respective contacts.
The audience can be segmented with tags for further management and improved targeting.
Unified calendar shows plans and events across the whole team.
There is a couple of social media management tools, as well: Twitter and Facebook post scheduling, contact matching across a number of social networks, and social media signals.
Integrations are in place for G Suite, Office 365, Outlook, and about a hundred more applications.
Reports and forecasts point at the weak spots in the marketing strategy.
A powerful tool like this comes with many support options: a free onboarding tour, one-on-one training sessions, open reference materials, Q&A sessions, and traditional email support.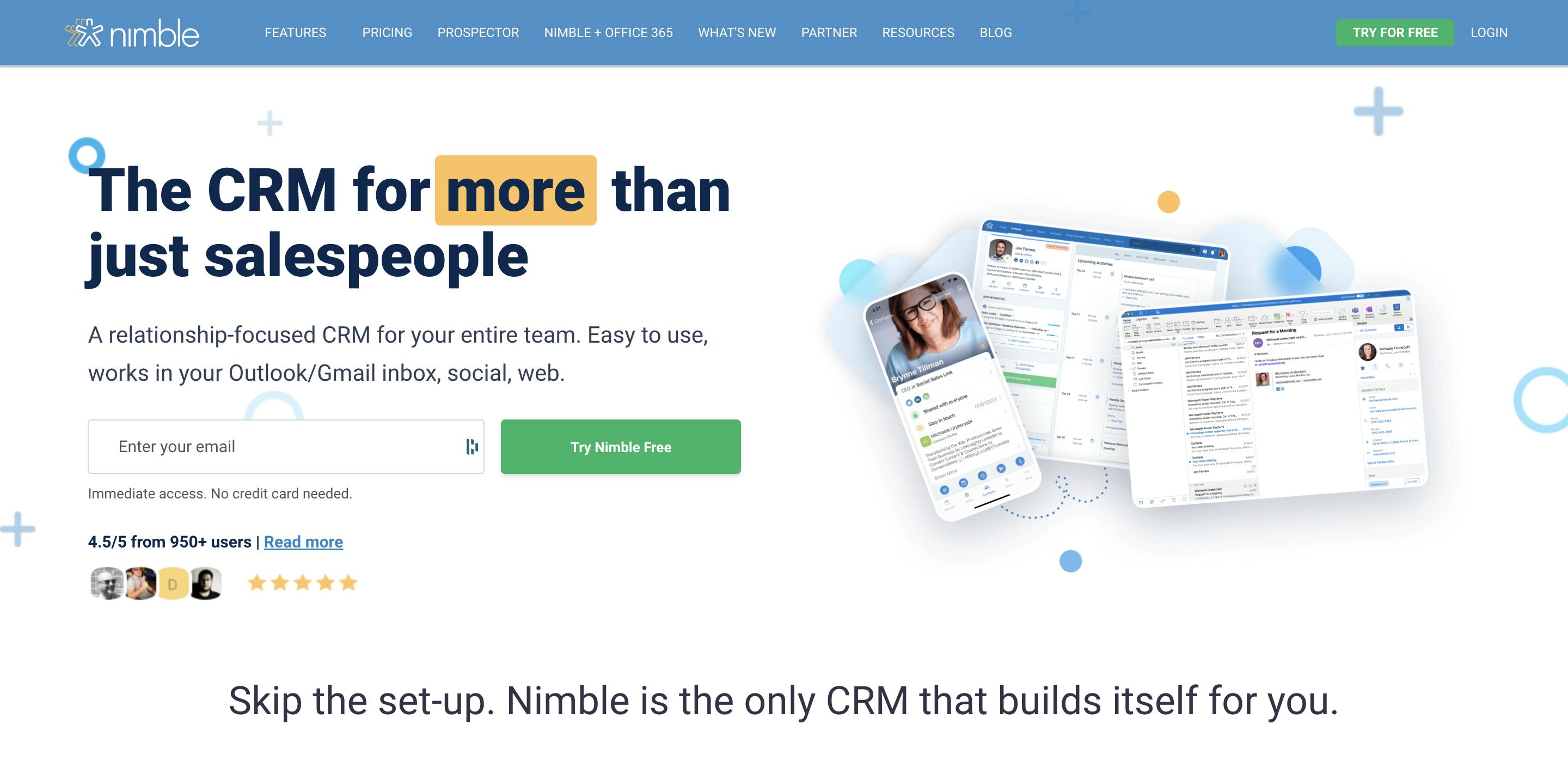 Nimble use cases
You and your team will benefit from Nimble if you daily have to deal with thousands of customers belonging to different social groups across a dozen social networks. Otherwise, it is going to be overkill.
Nimble pros and cons
✅ Extensive and feature-rich.
✅ Preferable
❌ Meant to be used on a large scale.
❌ No free plan.
* all numbers valid as of May 2022.
Wrapping up
Making a custom CRM for entrepreneurs, creators, or students is totally a surmountable task for a solo developer (our team could as well do it), as you can see. Dex was created this way, for instance. There are plenty of solutions that are adapted to particular niches, like FollowUp, too. The only downside of these apps is that advanced features are quite often pricey.
On the other hand, if a certain app does not meet all of your budget and quality standards, it is possible to combine free apps for maximal effect. Any of the abovementioned best personal CRM tools might be used in conjunction with other tools, such as customer relationship management trackers, for example.
FAQ
What are the four types of CRM?
Strategic, operational, analytical, and collaborative. In the respective order, they focus on:
building sustainable and profitable relations with customers over time.

features that provide immediate value: automation, marketing, and customer service.

data mining and drawing useful insights about customers and processes within a company.

tools that improve team collaboration: data storage and sharing, communication.
What is the difference between CRM and CMS?
The former is customer relationship management while the latter is content management system.
Is CRM a tool or software?
CRM is a tool that comes in a form of software; so it is both.
What are the 4 components of CRM?
Breaking down the pillars of CRM systems, researchers have arrived at the following general components: technology, business strategy, methodology, and people.
Recommended Readings: