Social media application development: Features, Costs, Compliance
How to build a social media app from scratch and be able to monetize it? Read this article to develop your social network without any headache.

Natali Savenko
May 01, 2022
The seeming monopoly of Facebook, Instagram, and Twitter spreads an illusion that there is no place for a new original social media.
Obviously, it is not so. Dozens of platforms successfully compete and outpace the market giants: the most notable example being Chinese TikTok.
How and why do you come up with an outstanding social media platform idea that will firmly occupy the intended niche and persevere in the modern volatile market? How to create a social media app? Where to find a masterful social media app developer?
What is a social media app?
A social media app is basically an online platform that facilitates communication between people. The other synonymous term is "social network". It might be fully web based or come as a mobile app (or both).
The implementations of various social networks vary depending on the following:
The depth and detail variety of profile data required to open an account.

The supported data formats (text, audio, video, images), the respective restrictions, and supported actions.

Extra features: social media "tokens" or cryptocurrency integration, ads, games, public chat or direct messages, live streaming, etc.
There has been some debate lately, whether messengers should be considered social media or not. They perfectly fit the abovementioned definition and, considering the advanced features of some modern ones, indeed, they can.
Have you been wondering, is WhatsApp social media or not? It is. Still, it is advised to call it a messenger for the sake of clarity.
Types of social media apps
The most popular social networks are those which hit the broadest possible target audience. Facebook, for example, is one such general-purpose social network. It used to be an extremely simplistic image sharing platform, similar to the modern Tinder. Now it is packed with features for every taste.
The known Facebook alternatives include Diaspora, Vero, WT Social, and Ello.
Instagram follows the "video-first" approach and is basically an image-sharing platform. Instagram is a sort of visual Twitter that encourages users to share short video Stories and pics from their life. There you have another kind of social media, meant primarily for visual content.
Another example is Snapchat. It would be unfair to call Snapchat just one of the Instagram alternatives; rather, Instagram is an app like Snapchat. Some of the cool features of the latter were borrowed by Facebook to be incorporated in Instagram.
Snapchat is more privacy-focused than Instagram. Impermanent content feature gives users a feeling of safety when they share their social media images or messages. There is a lot less trust in corporation-owned Instagram in this regard.
If Instagram is meant for sharing one's own content, Pinterest is meant for content exploration. The images there are not usually created by their posters. From this point of view, Reddit can be considered among Pinterest alternatives.
Nonetheless, Reddit is more of a text-based discussion platform or an Internet forum. The text-first social networks and messaging apps are a whole other matter. Although it seems deceptively simple to make a chat Android app, the proper balance of privacy, legal compliance, social media monetization, and user-friendliness.
Although privacy is always relative and depends on the actions of a user to no lesser degree than on software, Mastodon is an example of a recognized private social media app. About a hundred thousand users left Twitter for it after the acquisition of the latter by Elon Musk, fearing that the Chinese government will oblige Musk to leak user data.
Another example of private social media (which counts as one of the Snapchat alternatives, by the way) is Wickr Me.
The video-sharing platforms like Netflix or YouTube both have significant capitalization and the rise of their popularity was unexpected and rapid.
Specialized music social media apps like Soundcloud or Bandcamp unite creators and music lovers. Not only does this create a convenient marketplace without intermediaries but also provides a platform for music lovers to meet up and chat.
Any file-sharing platform can be turned into a social network. It is not widely practiced yet but in theory, a torrent tracker with a chat integration could be the next big thing, for one example. Media sharing apps in general have a lot of potential; with enough promotion and the right market sentiment they can grow into market giants in no time. See, for example, the TronTV network that implements blockchain technology to manage the decentralized storage of files across the web and reward the users with cryptocurrency coins. It is just an extension of the good old μTorrent app.
The benefits of creating a social media app
Even if the market of social media apps is very crowded, there is still enough space for creative solutions. If you support the theory that humanity is approaching a point of technological singularity then you realize that the scope and variety of possible SM solutions is vast and barely imaginable.
Mark Zuckerberg has apparently recognized this potential, which led him to the decision of renaming "Facebook" into "Meta" – short for "Metaverse". Of course, the big players like Meta want to track user behavior in virtual worlds (mainly, their buying decisions) and monetize the hell out of it. With a big enough budget, you can do that, too.
Not everyone has enough money to set the ambitions so high. A humble goal example: how to create a social network app from scratch just to protect your team's data? Third-party apps may have unpleasant backdoors – even those that claim superior privacy. There is also the risk that a next software update will turn an app into a resource-hungry data tracking malware. This disaster happened to Skype. Its co-creator later started to support Wire, a privacy-focused lightweight messenger.
A custom-built social media app may provide its owners with extensive data about the users (if they gave explicit consent to share such data). Ads, analytics, paid subscriptions for exclusive content access, microtransactions: the list of the revenue sources is not complete. All in all the task of building social networking sites and apps is still expedient if you have the right ideas in mind to make your product shine.
Growth forecast of social media applications
The market is bound to grow at approximately a 23% annual rate in the coming years: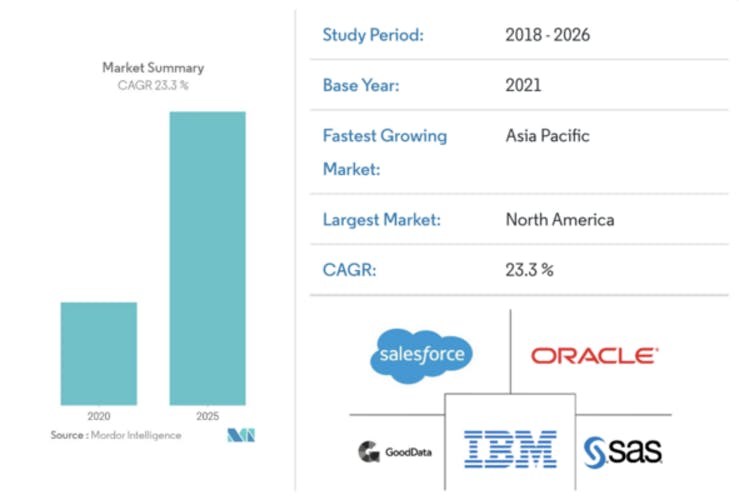 The growth rate of other trending technologies should also be considered: FinTech, WealthTech, DeFi, AI, VR/AR, and others. A sound combination of two or more trending technologies will more likely succeed.
The number of users is projected to grow at least 7% every year up until 2025 (when a re-evaluation will be required), providing enough audience for fresh networks. As in the case with Twitter, the users will migrate between the networks, choosing more favorable service conditions.
6 steps of the social media application development process
There is a usual workflow that is not much different from one software product to another. Social media app development involves all inherent risks of software development and business management in general. It must be prepared to with due diligence.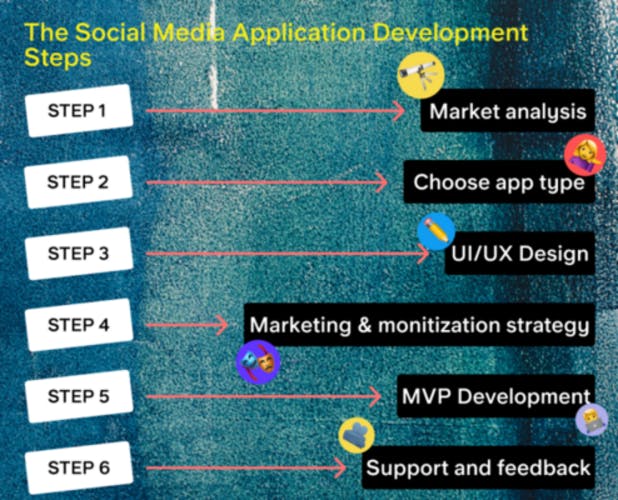 Market analysis
There has to be a demand on the market for a given product. This stage is meant to approximately determine the demand and make a forecast about the product's performance.
Define the target audience. Calculate the market value.

Analyze available data (such as the web search queries and social media trends) to determine the market need.

Determine the closest competitors and potential partners.

Estimate the needed resources.

Take care of the legal matters.
Your business analyst may suggest the other steps. Alternatively, a whole routine may be ordered from third-party agencies. Doing the market analysis on your own is also possible with the help of respective tools, which do not necessarily have to be super expensive.
This stage includes the choice of the target platform. Is it going to be an Android social network, or a cross-platform one? Web-only or hybrid?
Choose the app type
It takes the mind of a visionary to guess the right app type and the technological stack that would guarantee success.
All of the apps we have listed so far have one shared drawback: they have already been released, and if you make a clone, you must be prepared to face the consequences.
Find something the market lacks or something you are sure you can do better.
UI/UX design
The visual part is important: backend developers link specific functions to the interface elements, and users want something catchy yet not annoying, something feature-rich yet easy to use.
A design draft (a mockup) gives the social media development team an idea about the user journey. It is also a visual representation of the product that can be shown to investors.
At this stage, it is not worthwhile to design everything down to the minutest detail, like social media app icons. There will be ample time to polish the design after the release.
Marketing & monetization strategy
To grow and improve, an app needs money. So, honestly answer the question: what does it sell? What does a user pay for?
Rolling out all the monetization features at once is a no go, so they must be distributed across the app maintenance timeline and be strictly tied to performance.
MVP development
The minimum viable product, unlike the mockup, is a working app, albeit with extremely limited functionality. Provided that the market analysis had been completed at the point of MVP development, and the features have been determined, it is a matter of time until it is released. The future versions of the product will build upon it; the users, beta-testers, and investors will have something to work with and evaluate.
Support & Feedback
One of the key principles of modern software development is to release often. Depending on the chosen methodology, the releases may take place every few hours or once in two weeks. Larger intervals between the releases will make the team lose touch with their target audience.
How to make a social media app that responds to the immediate needs of its users? Arrange for convenient feedback channels for the users. Email support is the most primitive one. Speed and efficiency are crucial, so messengers, phones, and chat bots are advised for community management and support.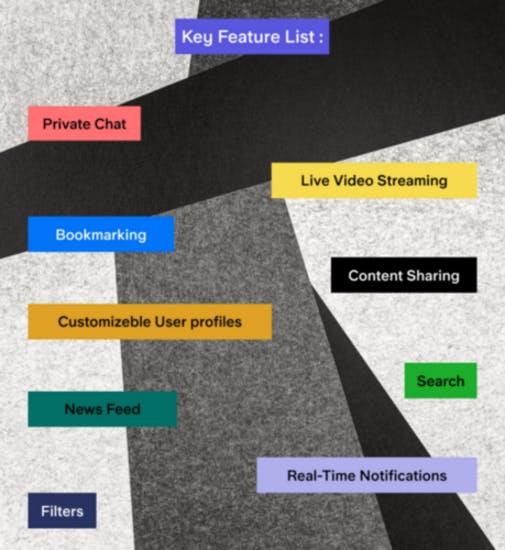 The costs of the social media application development
A myriad of factors influences the final price of a social network.
The scope of the project at large;

The existence of similar projects;

The current market sentiment;

Media coverage and marketing;

Access to cutting-edge technology;

The chosen payment model;

The possibility to outsource expensive and skill-specific production;

The numbers of the development team and their skill.
Those who wonder how to build a social media app from scratch may want to reconsider: a bunch of existing social networks come with advanced developer tools. The flexibility they offer might be just enough for your purposes. For example, Discord, Telegram, or Slack app development suites will definitely cover all the basic community management and support tasks – in the chat format.
As for the third-party development service providers, the exact numbers vary. One provider will name the price ranging from $12,000 to $60,000, another will set the minimum price at $40 thousand, the maximum exceeding millions of dollars.
How your social media app can stand out on the market
Making a profitable app that is extremely similar to an existing one is possible but risky. The products that hold a market monopoly in particular niche have a tendency to degrade: expensive services, overloaded and incompetent support representatives, unnecessary features and data trackers at the expense of performance, etc. If you can target these drawbacks and add essential improvements, the audience will eventually recognize your app.
How to start a social media platform that has uniquely attractive features no one implemented before? Look out for technological trends and the features of up and coming social media apps.
Some technologies may be too immature to conquer the market while other face so much enthusiastic support they create speculative bubbles. Studying both failures and successes will give you a clue about the direction of development.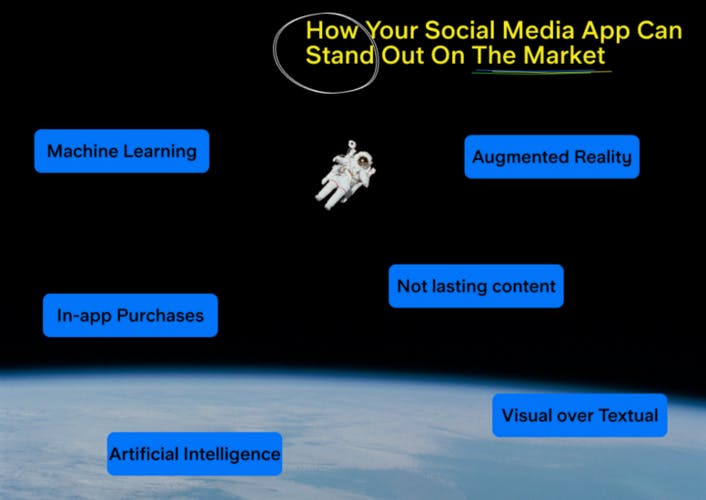 New social media apps actively implement artificial intelligence and machine learning to analyze and predict user behavior and personalize their experience. The use of AI in social media is only limited by its creator's imagination.
Voice and gesture interfaces are actively used in a number of advanced apps.
Visual content is preferred to text or audio except for the niche-specific cases.
Virtual or augmented reality technologies are gaining traction. Their spread is slow because they require special equipment.
Impermanent content (self-destructing messages and "stories") is not really a new idea (Snapchat introduced it in 2011) but users like it, so it won't get old in the foreseeable future.
Gamification. Experience system, ranks, and roles, achievements, rewards.
The aspect of social engagement is a must-have ingredient of every online game. This is why turning a game environment into a social network (or vice versa) is always a good idea, as proven by the experience of countless MMORPG games.
There are a handful of other features: community workshops, on-platform mentorship, décor items and badges, premium accounts or VIP levels, etc. Make sure to implement these through convenient and non-intrusive microtransaction mechanisms or they will spoil user experience.
Summing up
Social media evolves hand in hand with every other technology so there will always be space for improvement. For entrepreneurs, it presents a chance to bring positive change into the world and profit.
One does not necessarily have to build a social network from scratch to engage in SM development, but if you do intend to do it, here is a final note: add a secret ingredient to your own custom social network. After all, the definition of innovation is creating something that no one else has come up with yet.
FAQ
What is social media development?
Social network is an online platform for sharing ideas, communication, and cooperation. The process of building a social network from scratch is referred to as social media development.
How do you develop a social media application?
One either builds extensions, bots, or applications for an existing social medium or develops their own medium from scratch. In the latter case, the process is not different from developing any other software application.
How much does it cost to build a social networking app?
Depending on the scale of the project, IT companies report the social media app development cost starting at as little as $12,000. Major projects may cost millions of dollars (social media applications development & management).
What makes a good social media app?
Low entry barrier, simplicity of use, the popularity of target platforms, smart and non-aggressive monetization, user privacy, and the implementation of trending technologies: artificial intelligence, virtual reality, blockchain and cryptocurrencies, and others.