IT Outsourcing Cost Guide: How to Determine Your IT Service Costs Accurately?
Have you ever thought about your IT outsourcing costs?
This guide will help you to figure out in IT Outsourcing costs and distribute a budget profitable.
Maria Shapovalova
September 01, 2022
IT outsourcing is a technical term, which means that it must be clear and unambiguous. However, in individual cases, its actual implementations vary, as well as the IT service rates. We are going to explore the topic in this article.
What Is IT Services Outsourcing?
IT services encompass a huge variety of activities including web, mobile, PC, or embedded development and all kinds of hardware-related professional activities, like server maintenance or local network administration. IT assistance also includes supervision, mentoring, or training, i.e., consulting services.
As for the "outsourcing" part, all paid business-related activities that are delegated to a third-party service provider are, in fact, outsourced.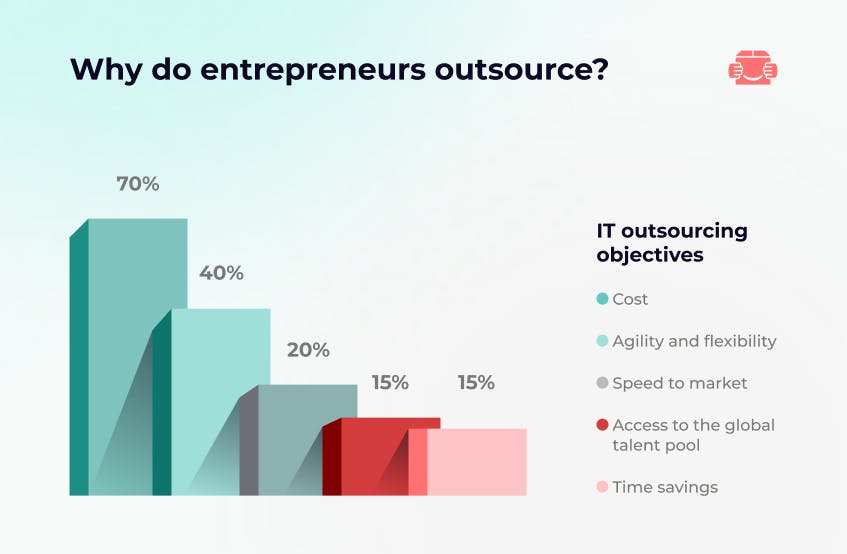 Fully Outsourced IT
Product owners might either fully outsource their IT-related tasks and focus on the core activities (marketing, product development strategy, etc) or partially – when they lack personnel, space, time, or money to hire in-house employees.
The former option (fully outsourced IT solutions) is particularly convenient when the product owner has no in-house IT team at all, and the aforementioned barriers prohibit them from recruiting one over time.
It is also possible to have a remote team in a financially attractive region but it would not count as outsourcing if the team is legally employed as a part of a product owner's organization. It would be rather called "offshoring" or "nearshoring".
The average cost of IT support services in this case would definitely be higher than in the case of outsourcing small atomic tasks.
IT Teams Co-Management
Rather than ordering turnkey software development solutions (or any other type of IT services), the POs choose to join the effort of their in-house teams and their remote colleagues from another company.
Any valid reason may drive such a decision.
Prohibitive costs of expanding the in-house team.

The importance of fast, inexpensive product development continuation.

Irregular or seasonal load.

The necessity to access the top available talent in a given niche on the globe.

Plain attractiveness of IT support pricing.

The simplicity of scaling is connected to outsourcing.
Outsourcing IT departments is as easy as hiring solo experts. Importantly, some companies enable their clients to formally integrate employees into their teams, including the option of relocation.
In the majority of cases, IT outsourcing cost is the primary reason why businessmen practice it in the first place. The second most popular reason is scalability. On top of that, the majority of IT outsourcing companies' customers have noticed outstanding productivity in their newly acquired remote teams.
Is outsourcing cost-effective at all times though? No. Working with one of the renowned international IT service providers is likely going to result in significant expenses. An in-house team might actually cost less long-term in this case.
To reap the maximum benefit, a product owner has to choose the remote team's region in such a way that the cost of IT outsourcing is significantly lower than in their home region.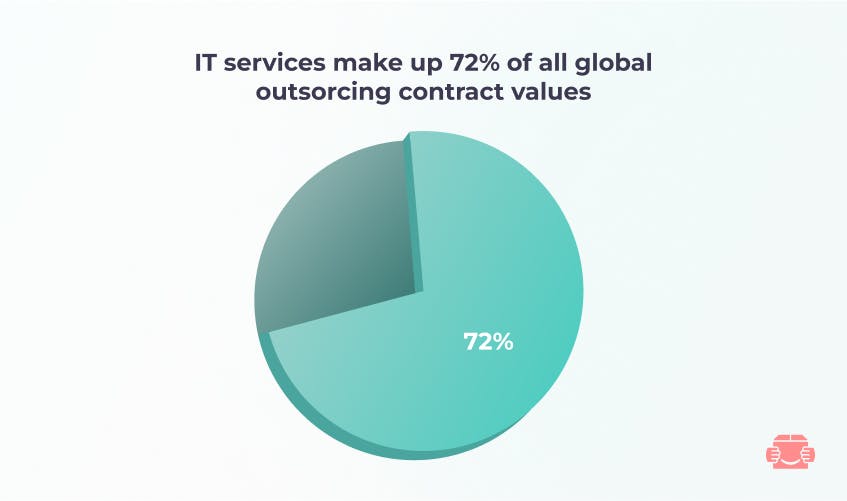 When Is IT Outsourcing Appropriate For Your Business?
The short answer is: outsourcing is almost always expedient when a product owner has no core team.

The the best proof is the growing popularity of outsourcing, measured in global spending: Deloitte reports that it is projected to hit a 22% increase in 2023 compared to 2019.
There is something for businesses of all sizes in outsourcing: Clutch points out that at least a third of small businesses outsource their activities.
Sensitive activities that require secrecy do not blend well with outsourcing, unless a carefully designed NDA is involved. Neither does production with expensive technologies that an owner would rather keep to themselves. Another thing that prohibits remote cooperation is reliance on equipment.
Take into account all the benefits of outsourcing we just listed above and motivation that drove countless businesses to outsource. Is it relevant to your situation? Then the next necessary step is to start exploring outsourcing IT costs across available teams.
How Much Should IT Services Cost?
Determining IT support prices can be hard, especially in the case of a vague roadmap.
Those product owners who hire dedicated developers for ongoing long-term projects and don't care about the final cost of outsourced IT services should opt for the per-hour pricing model.
On the contrary, if the exact budget calculation is important and the requirements are exhaustive and clear as much as possible then go for the per-project pricing model.
One thing is certain though: there is a wild variance in IT support costs.

Which Factors Influence the IT Outsourcing Costs?
Outsourcing is flexible, which means that the IT service cost corresponds to every particular project. In general, the following factors influence the total cost:
The number of hired talents and their rank.

IT service provision duration.

Market availability of the service in question – and the necessary talent.

Outsourcing destination.
Anyways, outsourcing costs and benefits not only balance each other out, but there is strong evidence indicating that benefits are more numerous and valuable.
IT Outsourcing Cost Average On Market
Is it easy to fall under the misconception that there is a single most profitable place in the world, and all the outsourced IT services concentrate there – China, for example.
The diversity of outsourcing locations is, in fact, a lot richer than that. Even though China indeed boasts a large pool of skilled IT professionals and emphasizes STEM disciplines in education, it is still not enough to accommodate the demand across the world – and no, not even India can compensate for that.
We have mentioned in the other articles that, in regard to outsourcing, various regions tend to specialize in different niches, develop the respective skill, accrue experience, attract the investments of larger players across the world, and develop further. It is a virtuous cycle.
For one example, Ukraine is the top destination for cybersecurity services in the world. It has been persevering under the constant threat of Russian cyberattacks, which led to the emergence of strong teams like Hacken.
That said, you are encouraged to look not only for the best pricing conditions but for the best talents as well. Technical inaptitude of service providers is known to entail unpredictable expenses in the long run.
The optimal cost of IT support for small business is $25-50 per hour per specialist, provided that the said business does not develop highly technological products. This is the price one gets when outsourcing IT services to the regions with the lowest wages.
The average hourly rate for IT support outsourced to other countries would rise to $50-150.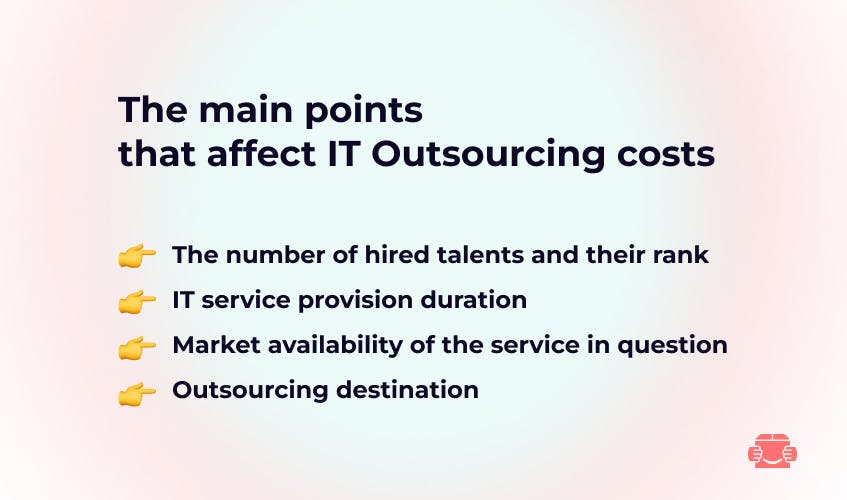 IT Outsourcing Cost Calculations
Both service providers and their clients are looking for a fair price. This fact never changes regardless of the state of the market.
Entrepreneurs have always to be on the lookout for the best conditions, except that the market is volatile and there is no absolute numeric definition of profitability or efficiency. At the time of writing, the global semiconductor chip shortage has been going on for two years. The crisis might get more severe as tensions around Taiwan boil up. As one would expect, IT service costs would soar.
For that reason, we won't give any exact numbers regarding the best cost of outsourcing IT services, only the algorithm of price calculation. Mind that this step can be skipped altogether if you just refer to a service provider of your choice and describe the task at hand. It is free of charge. Otherwise, you'd normally go through a few steps:
Define the problem.
Find the solution.
Identify the missing talent.
Measure the desired completion date against the budget, and decide upon the preferable pricing model. In general, hourly wage better protects a contractor while the  project- or milestone-based pricing model serves a product owner. Nonetheless, like we said, the nature of IT service itself should define the pricing model choice.
Reach out to service providers. Their professional representatives will always come up with precise deadlines and budget estimations, so it is great to interview and cross-compare at least four of them.
The simplest example of going through this process is as follows:
A company has no web presence.
It needs a website.
There are no web developers in the team.
Considering that the website has to be pretty basic, a week should be enough to finish it for one full-stack developer.
As a series of interviews revealed, the time estimation was incorrect, and the company should aim for a 6-week development duration to get a custom website.
The bottom line is, the total IT support service cost will amount to: the number of specialists * their hourly or monthly rate * total hours or months on the project, respectively.
International IT support behemoths will charge a fortune for their services. This is not the kind of outsourcing one would usually expect. Small business IT support pricing, on the other hand, leaves a much more pleasant impression: striving to win customers and fill their portfolio with noticeable cases, these teams keep the technical support cost reasonably low.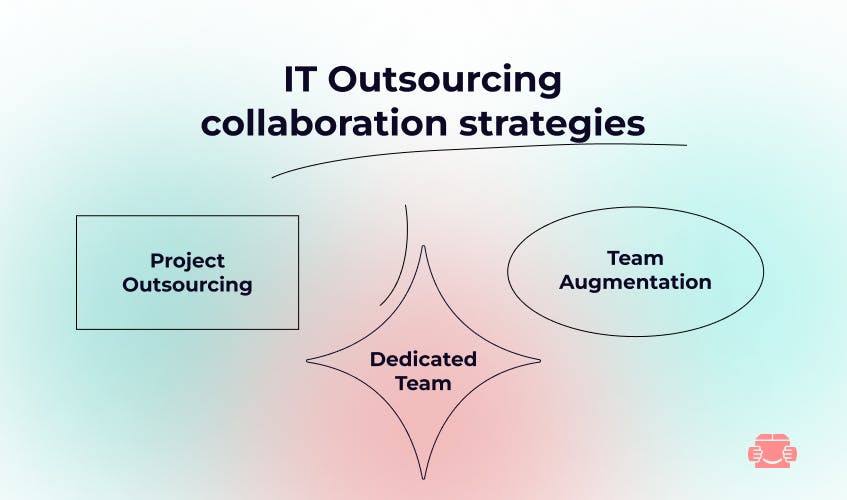 IT Outsourcing Pricing And Collaboration Strategies
The three major types of collaboration align with respective product owner's needs and capabilities. Here is a short breakdown:
Project Outsourcing: "We just want the project done, and we don't want to co-manage it or take decisions concerning team composition and size". Nonetheless, the development process is not entirely encapsulated, meaning that there is always a link between the contractor's and the client's teams. Product owners are regularly informed about the progress of development, as well as inquiries or requests coming from the outsourced team.
Dedicated Team: "We want to actively manage the team of outsourced talents after individually approving each one of them, as if the contractor's team is our own IT department". It is, as it were, outsourcing an IT department.
Team Augmentation: "We've identified the missing talent and wish to fill the gap with outsourced professionals. They will be screened and managed as our own employees".
As for the best suitable pricing model, the same rules apply.
Speaking of Project Outsourcing, it is convenient to break any project into a set of deliverables, each with its price, if it suits both a contractor and a client – particularly, if the project development includes different IT domains. For example, each of the following is a deliverable:
MVP development.

Testing.

Administrator tools development.

Third-party product integration.
And so on. If different departments and specialists are going to be involved at these stages, it is obvious that their hourly rate for IT support will vary. On the other hand, you may deal with a strong generalist team, who accept a flat, fixed price per hour throughout the whole course of the IT support cycle.
Another variation of the per-hour pricing model is the per-month one, which is basically equal to paying salaries. 
The thing with dedicated or augmented (extended) teams is that their members are treated as regular employees of a client's company and therefore must be paid regular salaries. IT service provider's companies may ask for a fixed one-time fee on top of that – think of it as the price of fast talent acquisition.
Finally, if a given IT service includes the use of paid software, add the monthly subscription fee per employee to their salaries. That number, multiplied by a total number of employees will yield a rough estimation of monthly expenditures on a given project.
The range of IT services is broad, and if it entails working with hardware, the material costs should also be taken into account.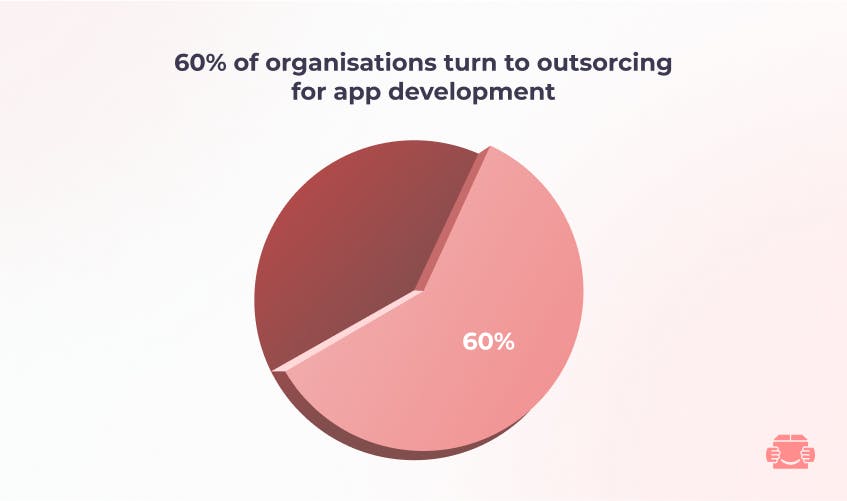 How Outsourced IT Department Reduces Cost?
IT outsourcing cost savings calculation is pretty straightforward: deduct the regular expenses that would otherwise be spent on an in-house employee. The addends of this formula are numerous:
Office rent, bills, security, and other space-related expenditures.

Necessary social guarantees: day-off coverage, sick leaves, parental leaves, insurance, etc.

Salaries of the staff members who support the core team: HR managers, accountants, lawyers…
It goes without saying that some managers enjoy generously promoting and rewarding their in-house employees, including individual onboarding gifts, birthday gifts, contest prizes, etc. Nourishing talent in such a way pays off long-term. However, at the early stages of startup development, this is just unaffordable. Cost reduction is the primary priority to make it to the higher leagues. To possess the benefits of the both worlds, managers of this kind may refer to the service providers who enable their employees to fully integrate into the client's teams, including the relocation option. This is how they snatch the top talent—motivated and skilled, that is fairly scarce—fast and for the best price. Voypost, for instance, provides such a service.
The implicit savings of IT outsourcing consist of the money spent hiring in-house employees the traditional way. A fraction of them are still going to bounce off during the very first months of work. The result is production delays, and now we talk about profit loss rather than about savings. The former could be a lot more significant than the latter.
How to Manage Your IT Outsourcing Costs?
To sum up, the total expenditures on IT outsourcing services consist of:
team member salaries,

the outsourcing company fee,

paid software subscriptions,

material expenditures.
A product owner themselves may do the napkin math and calculate all the cost of IT outsourcing. Some other professional in their team, if any, may do that instead: an IT Project Manager, a CTO, or anyone else with a rich technical background.
Lastly, the whole calculation and management routine can be outsourced, too. That is, to outsource price estimation and staff acquisition services so that a third-party provider looks for the best IT outsourcing offers on the market.
Choose whatever approach you see fit! We are always ready to deliver outsourced IT services for small businesses or large, internationally renowned ones alike.
FAQ
Is it cheaper to outsource IT?
Outsourcing to countries with lower wages is always cheaper. Top managers opt for outsourcing because of flexibility and access to top talent that it offers.
What is the average cost of IT support for small businesses?
If the IT services are outsourced, the average hourly cost per professional gets as low as $25-50; otherwise, it is $50-150 or higher.
What is IT service outsourcing?
IT outsourcing, by definition, is delegating IT-related activities to another legal entity or freelancers. The large variety of information technologies includes both the exchange of intellectual value (such as software development) and immediate work with underlying infrastructure (hardware and networks).
What is the average hourly rate for software outsourcing?
Considering the disparity of numbers reported by different sources, the average hourly rate for software outsourcing settles down around $30 in the best case scenario.
Recommended Readings: