What is IT outsourcing? Quick overview 2022
Figure out in IT outsourcing services in 15 minutes to extend your business faster with a trusted IT outsourcing partner.

Natali Savenko
May 04, 2022
Outsourcing never gets old so long as someone can do a certain job better, faster, and for a good price.
IT outsourcing, in particular, refers to a range of digital services such as software development for web, mobile, PC platforms, wearable devices, and embedded systems. Hardware design and manufacturing fall into the category of informational technologies as well.
Outsourcing technology services is easy as long as it involves exclusively the exchange of intellectual value. The modern delivery services are advanced enough to enable the exchange of hardware (for the testing purposes in embedded development) when necessary, too.
We're just done with the IT outsourcing meaning, and the most interesting stuff is right ahead. Keep reading to find out various subtleties concerning nearshore and offshore outsourcing, trends, benefits and risks, best regions to outsource to, and a bit of advice on how to find the right service provider on top.
Why do entrepreneurs outsource? Because in certain cases it is impossible not to. In the majority of cases outsourcing introduces an improvement in quality and price that cannot be ignored.
Let the facts speak. IT outsourcing is expedient. The market share comparison demonstrates that only about a quarter of IT tasks are carried out on-site, presumably by in-house teams.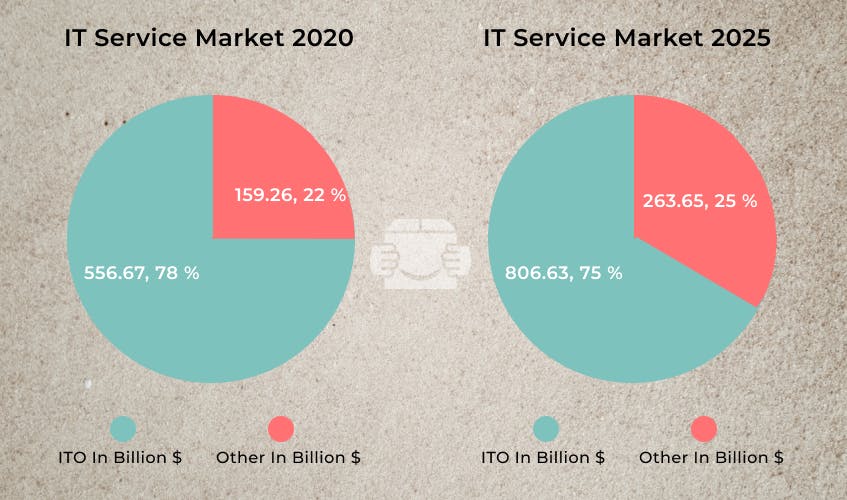 IT outsourcing statistics for 2022
Outsource in the right way and it will not only scale your business but be the driving force for greater good in the world.
What is IT outsourcing like in 2022?
The global economic and political environment has been continuously becoming more stressful in the last decade or so.
The 2008 speculative bubble demonstrated the flaws of the world's economy at large and pushed the political sentiment of masses towards left-wing ideas, as it were, the inequality gap has reached its peak since 1917.
Simultaneously, the radical right movements began to manifest, culminating in the Capitol Riots in 2021. The distrust towards financial authorities and political elites has shaken societies worldwide, making the economy more reclusive in general.
That is, even if we don't take into account the global anti-COVID19 measures and unending war crises, of which CAR, Syria, Myanmar, Afghanistan, and Ukraine are the most recent and prominent.
How does one even do business in these circumstances? Indeed, semiconductor chips, automobile, and agriculture industries suffered a heavy blow. Nonetheless, the global demand for automation and miniaturization technologies, both of which heavily rely on IT, the interest towards AI/ML, cloud computing, blockchain applications and decentralized finance, cybersecurity – all keep creating mass talent shortage.
Small business IT outsourcing is attractive, first and foremost, because of its pricing conditions. Large businesses keep outsourcing IT operations for multiple other reasons that we'll describe in detail in just a moment.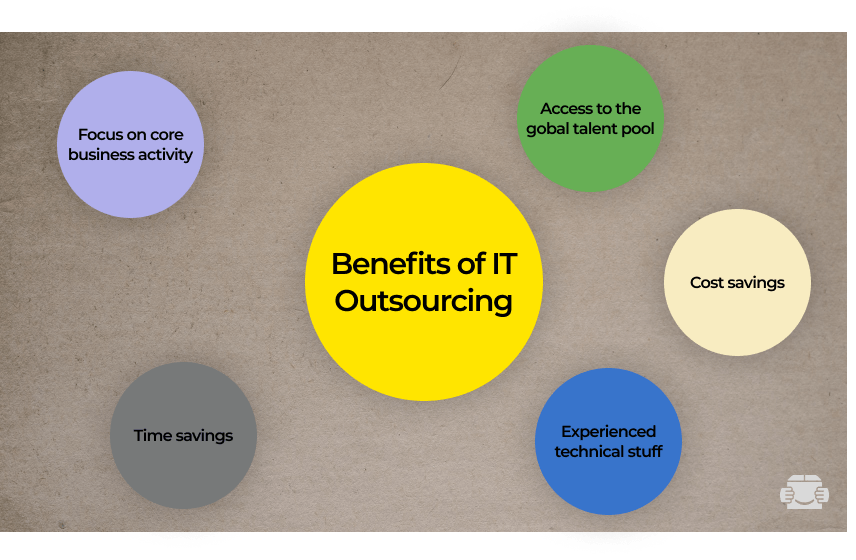 IT outsourcing advantages
Without the advantages of outsourcing IT services, some businesses would have to stop their operation, being unable to sustain an in-house team with all the necessary amenities and equipment or suffering from the talent shortage.
Access to the global talent pool, including extremely rare applications.

Cost reduction, especially in the case of outsourcing from the US and West Europe to Asia, East Europe, South America, and Africa. The price disparity can reach up to 6 times for identical quality.

The possibility to train specialists from scratch offshore still turns out worthwhile, compared to sustaining a team in one of the developed countries.

Ultimate scalability is of particular interest to large corporations. They rent whole data centers and hire third-party IT departments (unless they deem reasonable to buy them, of course).
IT outsourcing risks
The risks, if not addressed before the start of development, can threaten the success of any venture.
Mind the difference in your local and the remote team country's legislation, international certificate compliance, time zone difference, and language barrier.

Miscommunication that stems from poor language mastery of the key people in the remote team or their lack of soft skills will either prolong development or cause inconsistencies between the vision of a product owner and the actual end product.

Of course, trust-based cooperation with reputable IT outsourcing service providers is best, but at least a basic agreement should always keep both a client and a provider safe in the face of unpredictable change (economic or otherwise).

Poor planning on the client's side will result in poor cooperation experience with a remote team. It includes the product vision, pricing model, milestones and time boundaries, documentation, etc.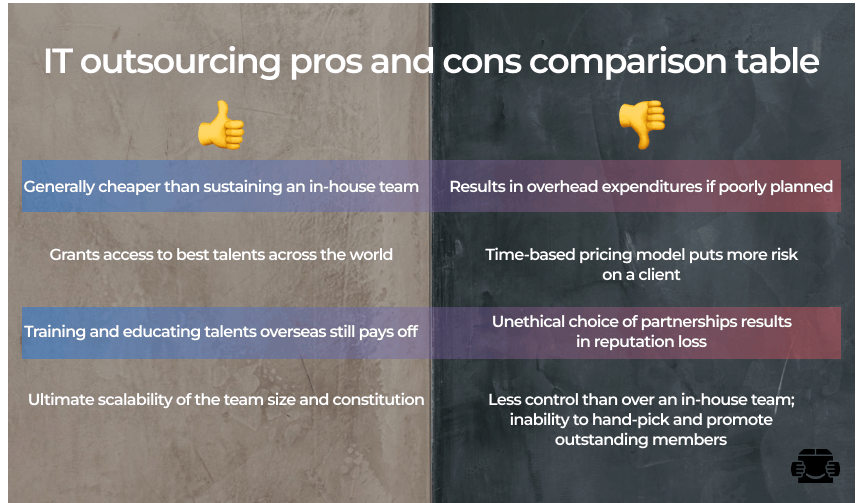 IT outsourcing pros and cons comparison table
✅ Generally cheaper than sustaining an in-house team
✅ Grants access to the best talents across the world
✅ Training and educating talents overseas still pays off
✅ Ultimate scalability of the team size and constitution
❌ Results in overhead expenditures if poorly planned
❌ Time-based pricing model puts more risk on a client
❌ Unethical choice of partnerships results in reputation loss
❌ Less control than over an in-house team; inability to hand-pick and promote outstanding members
How do you know that IT outsourcing is for you
Choose IT outsourcing over the traditional, in-house software development model when one or several of the following factors step in:
As a serial investor or entrepreneur, you need a different team every time you start a new project: the size and the tech stack will differ, so it is impossible to rely on a single team residing in a single office.
As a IT startup founder, you may want to find an expert team in as little time as possible, circumventing the process of hiring developers one by one.
Regardless of your background and the nature of your project, if the budget restrictions are prohibitive to the further development, offshore outsourcing will cut the bill.
All the other points mentioned as the pros and cons of IT outsourcing apply, too: you need highly skilled engineers in a given narrow niche, the niche is so innovative you have to train them from scratch cost- and time-efficiently, or you temporarily need to expand your personnel due to the seasonal load spikes.
Besides, the project development roadmap is unambiguous, exhaustive, and clear. You are comfortable with a chosen pricing model and development framework; the regularity and intensity of work communication within the given framework is just enough to effectively reach the project's goals.
As soon as the project is finished, you will need little to no maintenance, so that the development team will no longer be required, and you don't plan to shift the team's effort to another project.
Entrepreneurs also outsource because they are unable to allocate space for their own team but the said place has to be well-equipped, so that it cannot be a "work from home" company.
On the other hand, a successful long-standing company may be facing a growth crisis: the cooperation between departments is getting cumbersome and employers could use some automation to deal with repetitive tasks.
IT outsourcing is flexible in terms of time, money, and the number of specialists assigned to a task. Balance out the load according to the project goals.
Outsourcing vs Outstaffing and the right team composition model for your enterprise
One can fully delegate a specific development task to an IT outsourcing company, add a single specialist developer to their core team, or anything in-between. So, if any of the abovementioned reasons to outsource IT development applies to your organization, pick a suitable cooperation model.
Project outsourcing
Although the definition of outsourcing is pretty broad, here is a way to tell the difference between outsourcing vs outstaffing. The difference is not technical and bears little importance because outstaffing still qualifies as outsourcing, but sometimes "outsourcing IT services" is associated with turnkey project development. In other words, a product owner pays for the end result, and the service provider team builds it from the ground up in the case of IT outsourcing.
The parties may also agree to cooperate after the release: troubleshoot the product, implement user suggestions, and so on.
As for outstaffing, the following two models fit its definition: the dedicated team model and the team augmentation model.
Dedicated team
The dedicated team IT outsourcing model fits entrepreneurs who have a core team working on the product and temporarily need a new department of IT specialists to help out with a specific task.
For instance, there is a banking app that was originally designed for use in the US, and a client wants to expand it to work with European banks. They would hire a Europe-based dedicated developer team to work on the respective integrations and follow the local regulations (provided that the necessary licenses are already in place).
A dedicated team operates like a remote department of your own company as long as you need it.
Team augmentation
Team augmentation (or staff augmentation) is outsourcing on the smallest scale.
Suppose that your own software development company has taken up a couple of web development assignments and is falling behind the schedule. Instead of pushing off a release date, you could hire a single front-end developer to cope in time. The said organization may, in fact, assign as many developers to various departments of your core team as you need.
A specialist hired in a staff augmentation company may occupy the position in your team permanently.
Types of IT outsourcing based on location
There are three types of outsourcing based on the countries of residence of a product owner and a service provider.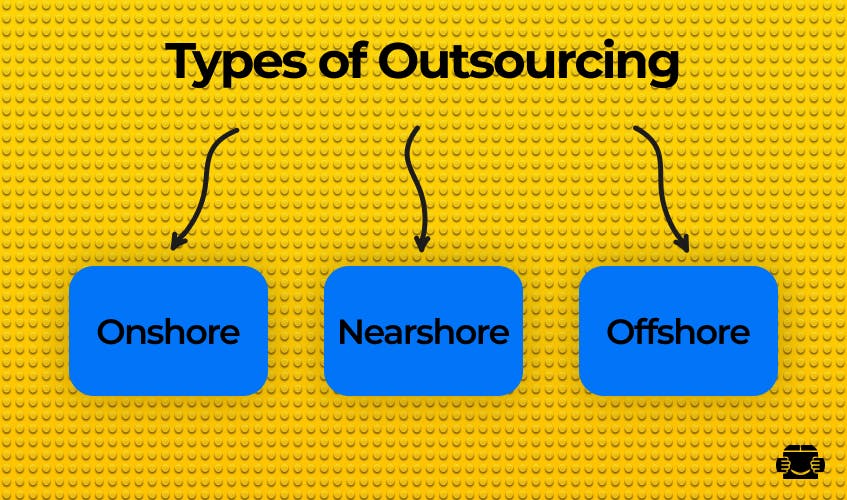 Onshore software development
The onshore software development outsourcing means that both parties (the client and the provider) are situated in the same country. It goes without saying that it might be more or less expedient depending on the country in question, which is why top economies of the world choose other locations considering the right budget and skills for the task at hand.
For example, the US-based businesses that outsource to IT outsourcing companies in the USA completely ignore the possibility to reduce the total development costs.
Although onshore IT outsourcing might incur unreasonable expenses and poor diversity of talent to choose from, the convenience of shared timezone, physical proximity, identical language, culture, and legislation often swings the choice of businessmen towards onshore software development.
Nearshore software development
The nearshore outsourcing meaning is as follows: the software development service provider is located in another country either in the same time zone or with a 1-3 hours difference at most, usually on the same continent.
The minimal time difference facilitates uninterrupted communication. The differences in legislation are either minimal or absent (like, for example, in the EU). All the other disparities between the core and remote teams are either negligible or manageable, as a rule.
Yet, the IT outsourcing cost savings are far from maximal. Those who opt for nearshore software development also miss out on the opportunity to select the top IT outsourcing companies in the niche of interest.
Nearshore software development services flourish on the borders of different economic zones with a noticeable gap between average salaries.
Offshore software development
Ordering services overseas is basically the offshore outsourcing definition; it implies that the service provider is situated in another part of the world, often with significant time zone difference.
The time zone difference alone is a considerable hindrance to effective communication on the project development, so the client's and the provider's teams have to arrange regular meetings at a time that is not too uncomfortable for both of them.
The possible disparities in tech stack and development frameworks have to be discussed right upfront, as well as any other nuances that may stand in the way of professional cooperation.
IT outsourcing companies do everything they can to simplify the onboarding process for their potential clients, and the latter have to be prepared to pass the necessary procedures.
Still, those entrepreneurs who pick an offshore software development company as their outsourcer, receive all the respective bonuses, if they approach the selection routine with diligence:
They select a company with proven experience in the desired niche, preferably with cases that are similar to their own.

Knowing the market, they select a region with attractive economical conditions.
The benefits of offshoring vs outsourcing to a local software development company are apparent, but to reap the benefits one has to invest enough time to research the market and get accustomed to working with service providers overseas.
It might be worthwhile to look for IT outsourcing consulting before reaching out to the representatives of offshore software development services for the first time.
Best IT outsourcing regions
Historically, some parts of the world have more well-developed educational establishments than others, or host international training centers; make the best use of it.
Ukraine, for example, boasts attractive financial conditions for clients who look to outsource software development all over the world. The proximity of the EU countries enables Ukrainian talents to receive quality education in the STEM disciplines. The core of Ukrainian software development was established three decades ago with EPAM, SoftServe, and other IT outsourcing pioneers.
Low development costs and high quality resulted in more international projects, which in turn helped Ukrainian professionals acquire more experience and become even more valuable. It is a feedback loop. Although Ukraine cannot currently invest much into its digital infrastructure, the financial attractiveness index still remains in the top according to Kearney.
To date, Ukrainian developers work on HMI, technological medical equipment, embedded systems, cybersecurity, and big data processing systems, to name a few.
India, China, Indonesia, Malaysia, Vietnam, Philippines, and Thailand have made it to the top of the index thanks to the strong blend of business environment conditions, prices, talent availability, and digital infrastructure. The costs of offshore software development outsourcing is their forte, but they lose points in the digital resonance score. Besides, considering the importance of KYC practices, investing into their economies knowing that it indirectly supports authoritarian and totalitarian governments is a questionable decision.
The digital resonance score we just mentioned is an indicator of digital skills of the labor force, overall interconnectedness of IT businesses and their activity, favorable legislation in the sphere of informational technologies outsourcing and intellectual property rights, and other IT-related business activity.
The digital-first approach in evaluating the ranks of global IT outsourcing service providers (that is, if the price is out of equation) reveals that the US, the UK, and Singapore are the top digital hubs in the world, followed by China, Germany, Sweden, Netherlands, France, Canada, and Israel.
As for Eastern Europe, Poland, Latvia, Estonia, Bulgaria, and Georgia will present a formidable competition to the abovementioned countries with a sound balance of IT service outsourcing prices and the level of digital infrastructure development.
Brazil, Mexico, and Chile are the highest-ranking South American countries that offer great financial conditions to international clients.
How to find the right software development company for the job
There are many IT outsourcing companies that have accrued enough experience to deliver their services on the highest level. And the diversity of niches they work in is so vast, it is easy to get lost in hundreds of companies and miss a great service provider.
A quick advice concerning the selection of the right IT outsourcing company is to be specific in the search engine queries.
A general query like "offshore outsourcing" will display a handful of promoted companies and the most popular definition articles, which are mostly written by IT outsourcing agencies but sometimes a tech blog mixes in. Not helpful.
Something like "offshore software development neobank app" is a lot more meaningful and will yield more relevant results.
If you have a friendly business that worked with offshore or nearshore software development providers before – their recommendation would be invaluable.
Last but not least, IT service review aggregators, like Clutch, have a system of filters that help to discover a team with the right tech stack, experience, cases, and development prices.
The global crisis of values has exacerbated almost to the point of the all-out third world war. We face the fact that unethical business fuels totalitarian regimes, which threaten the safety of the whole world and nullify the global community's effort to build self-sustaining prospering economies.
In this historic moment, your support of liberal developing countries is the vote for a more equal world tomorrow. Outsourcing IT operations to autocratic countries, on the other hand, is an investment into global bloodshed and violence for years to come.
FAQ
What IT services can be outsourced?
Even if the development involves exchange of material resources (as opposed to data and property rights), any kind of informational technology services can be outsourced.
What is offshore and outsourcing?
An outsourced service is the one that is provided by (ordered from) a third party. Offshore outsourcing entails ordering such services from overseas providers.
What is nearshore software development?
If a thirty party service provider is located in a bordering country or on the same continent not farther than 1-3 time zones away, outsourcing is referred to as nearshoring.
What is an example of nearshoring?
A US-based company delegating software development service to an IT service provider in Mexico or a German client hiring a colleague in Ukraine are both examples of nearshore outsourcing on different scales.
Recommended Readings: