How To Hire Dedicated Developers In 2023: Practical Hiring Prediction
In this prediction, we'll review how to easily hire dedicated developers in 2023, and gain from it.
It is hard to remember a time when the IT industry was not rapidly growing. Since the emergence of primitive IT-related technologies (e.g., transistors) it's ever been exponential growth.
Now, the 2022 is not completely gone yet, and marketers are already interested in the prospects of the IT industry development in 2023. In particular, the outsourcing sector. The numbers speak for themselves: every capable business wants to hire offshore dedicated developers.
IT outsourcing revenue is predicted to grow up until 2027, according to Statista. There is a noticeable dip in 2020, caused by the COVID-19 pandemics but the very next year seems to make up for that.
The growing demand for remote developers is tightly connected to the team structure changes happening in IT departments worldwide, which indicate that reliance on remote specialists is rather a necessity than a choice.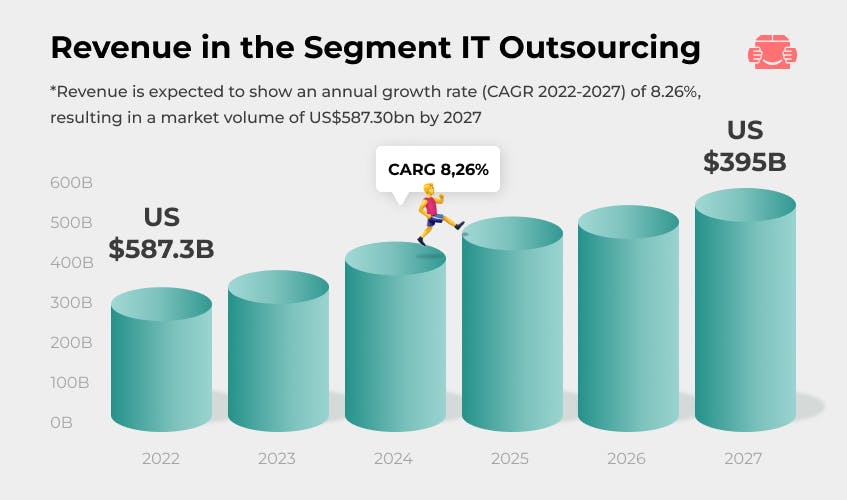 The Commit survey points out that the benefits of IT outsourcing are not even questioned. Approximately half of the respondents see scalability as the most important bonus while the other half admit its financial expedience. On top of that, three out of four respondents have noticed outstanding productivity of their remote teams.
On the other hand, hiring in-house developers entail significant hidden costs. The survey reveals that it takes no less than a month to hire a single developer, on average, and that eventually, one out of five fresh employees will leave.
One of the mind-blowing estimations discovered during the survey result analysis is that software development outsourcing will grow by 70% between 2022 and 2023.
Sounds like outsourcing is a silver bullet to the problems of all kinds of businesses, and to a large extent, it is.
However, is there a "but" to be concerned about?
When Is It Appropriate to Hire Dedicated Developers?
The natural conclusion to which you'd be naturally drawn by our introduction is to go hire a dedicated developer for all sorts of appropriate jobs. Obviously, this is not what might work out for your particular business.
Startups and small businesses reap the most benefit as they hire dedicated developers. The price conditions and scalability are ideal for their size. For example, to build custom websites, product owners hire dedicated web developers. The other most common business goal of a new enterprise is app development, for which they hire mobile app developers offshore or nearshore, or combine the core teams with remote specialists as needed.
Considering all the benefits of outsourcing, global brands make the most out of it, too. They hire dedicated offshore developers to work on new features or integrations while the core teams sustain and improve the existing product. In time, whole departments appear in the countries where these brands outsource to.
Finally, the businesses that have a specific rare task at hand, gain access to the world's top talent via outsourcing.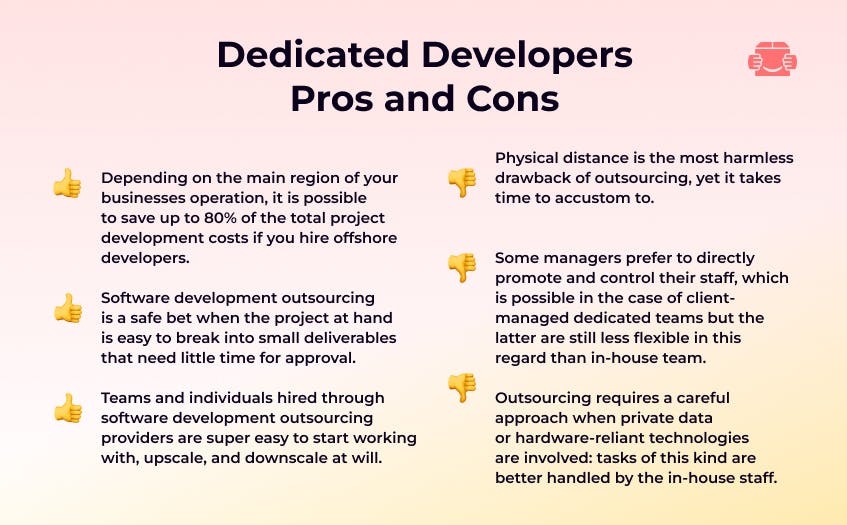 Dedicated Developers Pros and Cons
✅ depending on the main region of your businesses operation, it is possible to save up to 80% of the total project development costs if you hire offshore developers
✅ software development outsourcing is a safe bet when the project at hand is easy to break into small deliverables that need little time for approval
✅ teams and individuals hired through software development outsourcing providers are super easy to start working with, upscale, and downscale at will
❌ physical distance is the most harmless drawback of outsourcing, yet it takes time to get accustomed to
❌ some managers prefer to directly promote and control their staff, which is possible in the case of client-managed dedicated teams but the latter are still less flexible in this regard than in-house teams
❌ outsourcing requires a careful approach when private data or hardware-reliant technologies are involved: tasks of this kind are better handled by the in-house staff
How To Hire Dedicated Developers: Cooperation Models
All of the approaches, listed below, are usually available regardless of the software outsourcing company in question, so a client can freely choose between them – depending on budget, preferences, management style, required skill set, and time limitations.
Different namings of the same models spread some confusion, so we will attempt to bring clarity in that matter, too.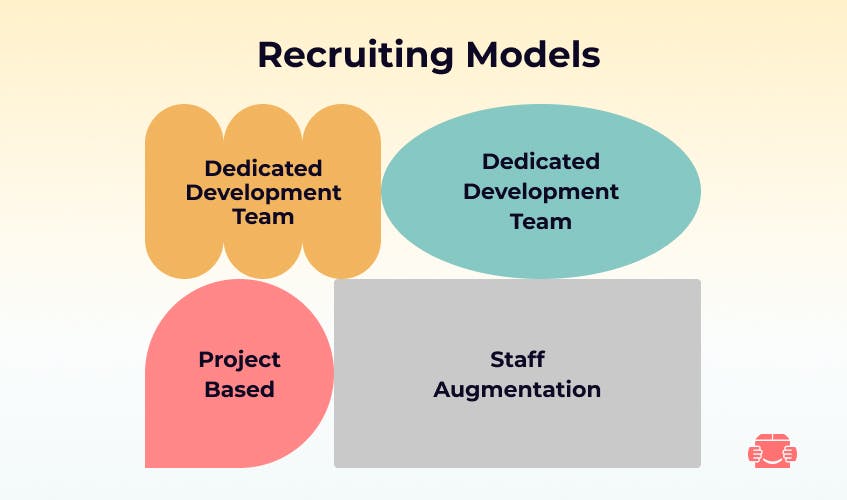 Staff Augmentation, Team Augmentation
This method, in essence, is adding the missing talent to the core team. It implies evaluation of the core team in respect of the task at hand.
Post-evaluation, a product owner refers to a software outsourcing company to either serve as an intermediary in search of a necessary talent or to provide the said talent from their permanent pool of developers for hire.
The model is obviously very flexible. Experts acquired in this way might be managed directly by the core team's Software Architect (or a CTO) unless they work on an isolated feature.
Finally, a product owner may choose to continue working with the expert individual (or individuals) and ask the provider to arrange their relocation to the core team's country. Among the other IT outsourcing providers, Voypost offers this service, too. Continuing cooperation this way would totally eliminate the drawbacks of outsourcing we listed above.
Dedicated Team, Managed Team
The notable distinction between dedicated teams and augmented teams is that the former is provided completely by an outsourcing company, whereas the latter partially consists of the members of a core team.
The two terms ("dedicated team" and "managed team") are used interchangeably although it intuitively appears that they stand for somewhat different cooperation approaches. Let's break it down word by word. The "dedicated developers" meaning remote employees who are focused full-time on the client's project as opposed to freelancers who might distribute their effort between various clients and tasks.
As for the "managed team", the term implies merely that dedicated developers effectively become a part of the client's organization hierarchy. The degree of control varies based on the client's preference, i.e., the client may give the remote team more freedom as long as they adhere to the predefined deadlines and goals.
It is perfectly fine for a dedicated team to consist of a single developer (plus a project manager on the service provider's side, and a senior developer for supervision).
Per Hour or Per Project Payment Model?
Dedicated teams are meant to be perceived as a part of a client's organization (at least for the project's duration), which is why the members are being paid regular salaries.
Still, because outsourcing corresponds to the needs of a given business, the pricing model can be negotiated just like any other aspect of cooperation.
Clients of IT outsourcing companies might even suggest a hybrid approach. For example, hire a dedicated web developer following the per-project model (otherwise known as "Fixed Price") and hire a dedicated mobile app developer for long-term cooperation following the per-hour model.
The time&material pricing model is an extension of rather straightforward hourly pay: it takes into consideration all possible resources (e.g., particular expensive hardware or software or expendable materials) beside time spent on project development.
Recruitment Process Outsourcing in Software Development
As a bottom line, clients do not always have to search for and screen the candidates themselves before they hire a development team that fits.
The load on the recruiting bodies is heavy: the tech talent demand in the US is expected to grow about 10% in a decade but the supply cannot keep up with that number. The talent is scarce.
Recruiters cannot allow themselves to rush the screening process because, as we mentioned above, a given candidate might turn out unfit for the job or grow disinterested in it during the first month of employment for any reason. On the other hand, recruiters cannot afford to take too long either. Job seekers will bounce off if they deem the selection routine too convoluted or too extended, preferring a company that does not test their skills so thoroughly. This is especially true for experienced senior developers who are confident in their own ability.
So why not outsource recruitment itself? All the inherent advantages of outsourcing apply flexibility, expedience, ease of management, time and effort savings, and immediate access to the top experts in the niche.
Software development outsourcing companies are aware of the difficulties HR managers face, which is why some of them not only provide dedicated teams or individuals temporarily but find and prepare developers up to a point when they are ready for relocation.
It goes without saying that at the point of relocation, the developer acquired this way will be closely familiar with the client company's tech stack, their product, and their working environment in general, which diminishes the chance for future miscommunication to near-zero.
Where To Hire Dedicated Developers in 2023?
One way or the other, the articles we have came across on the web are biased when it comes to naming the best places to hire dedicated developers. No wonder: nearly all content on the Internet is "sponsored", particularly that which touches upon a certain business application.
Still, there are countries that appear in most unrelated articles in top search results.
We are going to proceed to that list right after briefly describing the difference between nearshoring vs offshoring.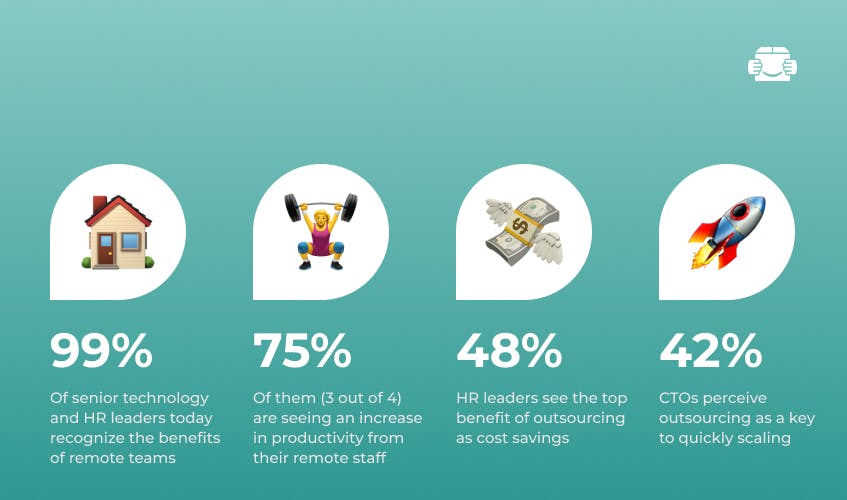 Hire Offshore Developers Whenever Possible
Offshoring is outsourcing certain tasks to companies located in another part of the world, a long distance away – ten time zones or so. It would not be right to define offshoring as delegating production to an overseas country: in this case, the time difference and the salary gap are not always significant. 
Economically developed regions have higher salaries compared to the developing ones. This is why outsourcing from the former to the latter is so financially attractive. The US and the EU residents are going to enjoy the highest price reduction, and quite often larger distance means larger bonuses for them.
Hire Nearshore Developers When Convenience Is Worth the Price
Nearshoring implies a 3-6 hours time zone difference between the core team and the dedicated team, which often includes being on the same continent. The parties may share a lot of legislation (as is the case with the EU); the cultural gap or language barriers are going to be negligible. It is also easier to organize in-person meetings should the need arise.
Nearshoring obviously does not provide ideal pricing conditions to countries where development services are naturally expensive.
Top Countries to Outsource To
Some of the countries have been on the list forever, but the year 2022 has brought crucial revelations to the table, making global brands reconsider their decision to outsource their software development there – sometimes under the threat of severe sanctions.
For example, given the recent events around the China-Taiwan border, the only reason to neglect the expedience of outsourcing to mainland China, refusing to access their vast and highly skilled talent pool, is political.
The same is true, to a much larger degree, about Russia. In a blink of an eye, outsourcing to Russia had become synonymous with sponsoring terrorism. This is a living example of how politics immediately influences the economy.
There is enough talent in the rest of the world though. The market works simply in this regard. If there is demand for a certain language with a large legacy code base then smart and motivated people will inevitably occupy the niche. Especially when the prices in their region create favorable conditions for outsourcing. Such is the case with Vietnam, Mexico, Brazil, and Philippines, to name a few. The flow of startup orders allows them to quickly amass experience and hard skill to compete with expensive economically developed countries.
As for Eastern Europe, Poland and Ukraine confidently occupy the positions of the most attractive regions (thanks to the balance of price, quality, and soft skills), followed by Hungary, Bulgaria, Czech Republic, and Romania.
India is known to contribute a very large number of developers to the global pool but it's often hard to call their quality remarkable. Nonetheless, it firmly occupies most rankings partially due to the attractive pricing.
So, wherever you are located, it is easy to hire a dedicated android developer, for instance, or, more specifically, hire a dedicated java developer – no matter if you prefer nearshore or offshore outsourcing destinations.
How To Hire Dedicated Developers In 2023?
There has to be a meaningful difference between 2022 and 2023 to serve as a basis for original suggestions concerning the search, screening, and hiring processes. Nothing comes to mind except for the growing isolation, which started with the COVID19 pandemics, soaring prices, and material shortages (particularly those that matter for the IT industry: rare earths, for instance). Numerous political and economic crises around the world exacerbate the problems we just mentioned. And even more, serious problems keep unfolding in the background. How about overpopulation, climate change, pollution, the related restrictions that might be implemented by force, and the threat of global conflict?
Isn't it best to wait and see instead of casting predictions?
A few trends are invariably going to define 2023, although, without a doubt, the environment is too volatile, and new factors may come into play:
Workplace safety. In short, make sure that a new strain of COVID or monkeypox does not disrupt the development process. Take care of health insurance issues and be mindful when setting up a safe office space if you do decide to sustain an in-house team.

Sustainability in regard to the solutions you work on and the ways you organize work itself. It is about responsible use of energy, food, and water that are becoming increasingly expensive.

Diversification. Invest in developers who are interested in one or more rare technology besides the main one you hire them for. For example, hire a dedicated react native developer who is also a blockchain enthusiast.

Innovation. Efficiency and renewability are going to become paramount as resources become more scarce and the global supply lines are interrupted.
Remote work is a great solution to safety and sustainability problems, and it is already widely practiced.
As for diversification, it is not immediately clear how your venture can benefit from it. Skill diversification in this case is rather a long-term strategy that is meant to help any venture endure talent shortages and be ready to switch to another product if the market demands it. It is always good to have creative generalists in one's team. And it also so happens that generalists are more capable of innovation than specialists who focus on a single technology or language and its implementation.
True talents are harder to come by than to retain. Therefore, the advice to innovate concerns advanced employee retention methods, as well as software products and workflows.
Finally, employ modern software development methodologies that focus on fast, incremental delivery of working product versions in a short time: for example, Agile or Extreme Programming (XP). Needless to say, it would be great to hire dedicated developers who are already familiar with the said methodologies.
How To Select The Right Software Development Service Provider?
From the stage of a product idea to the start of prototyping, there are four steps:
Drafting the features.
Market analysis.
Detailed specification.
Mockup development.
Software developers should take it from here, and if there are none in the core team, the search for the right team begins instead.
The degree of technical experience varies from startup to startup. It is not unheard of that startup owners have no relevant experience to determine the tech stack and the respective team composition, and there is no CTO in the core who could perform technical interviews and spearhead the development. In this case, a software development outsourcing agency with the recruiting option is a lifesaver.
Their representative will suggest the necessary tech stack, estimate the time required to find and employ experts with the right skill, and name the price upfront. Active client's engagement is still crucial for the project's success; no one else knows the project's priorities better after all, and there are multiple ways to handle the same task.
For example, one may hire a dedicated full stack developer to finish a small and simple project from scratch or prefer a duo of front-end and back-end developers. Or, if the back-end part had been already built by a freelancer, the client might need nothing else but code review and interface design, and so on.
Anyways, those looking to hire development teams have to trust their own judgment either in selecting a professional recruitment service or a contractor company that will immediately commence their project development. Here are some good indicators that cooperation will go in the right direction.
5 Good Signs of the Upcoming Software Development Project Cooperation
Project milestones are exhaustively defined before the first interview.
Communication with key people who are going to work on your project is transparent and seamless.
The contractor is proactive and curious about the project in general.
The contractor has a sizable portfolio, including cases similar to your own.
You have no questions left regarding the delivery terms, pricing mechanism, the contents of the contract, and mutual responsibilities should the contract be broken by any party.
5 Bad Omens of the Upcoming Software Development Project Cooperation
The contractor's representatives didn't ask the right questions you expected them to ask.
There are no publicly available portfolio records and testimonials with the names of the previous clients.
You have trouble locating the address of the contractor's legal entity.
You didn't discuss intellectual property rights and didn't document the agreement concerning it.
The developers at the contractor's side demonstrate little or no experience of work with the technologies you specified.
How To Evaluate Dedicated Developer Skill Set?
It is best to start cooperation based on the grounds of mutual trust, after a personal acquaintance or friend's referral. Skipping the stage of extensive skill testing saves some time that could otherwise be spent on the project to say the least.
On the other hand, evaluation is a healthy practice; skipping it altogether introduces unnecessary dangers to further cooperation.
Evaluation is normally carried out first by an HR manager, then, by a Tech Lead of your team. It is a very personal process, meaning that specialists conducting the interviews use the set of tools and techniques they like and are good at, so there's not much to suggest.
However, if the respective roles are not available in the core team and you are not willing to fully delegate the interviewing routine to a recruiting company, here is the best way to ensure that a given team is capable of performing the job you assign them: proof-of-concept (POC) development. Therefore, even before you hire a dedicated team, you get the chance to evaluate them and start to make the first step in cooperation at the same time.
The proof-of-concept product is less elaborate than the MVP so the contractor's team is going to spend minimal time and effort working on it. But it is still a deliverable that you can build upon, so it is advisable to pay for proof-of-concept development. Otherwise, make sure that the scope is defined rock-solid and the parties are clear on the success criteria.
There is another, somewhat controversial, method of software developers evaluation: online coding tests. They are time-consuming and usually have nothing to do with real projects, so coders often hate them for these reasons. However, if the said drawbacks are removed, developers recognize the meaning behind the tests and actually enjoy the challenge.
Here is a bunch of online testing platforms for coders, take it or leave it:
When you prepare to hire a team of developers through a specialized recruiting agency, we do not recommend this evaluation method. Would-be dedicated developers have already been screened by the company that employed them, so extra testing on the client's side is redundant. Nonetheless, the method would work for solo freelancers that you also plan to include in the team.
How to hire a developer without a proven success record through mainstream freelance job platforms? Coding tests are a possible answer, too.
Dedicated Developers From Ukraine
By the way, speaking about competitive programming and online testing platforms for developers, Ukraine scored an impressive overall score across the world at HackerRank, making it to 11th place. The competition included various disciplines in which Ukrainian developers got into the top 5 or even top-1 worldwide. To be specific:
#1 in Security;

#4 in Mathematics;

#4 in Distributed Systems.
It doesn't mean that there is a lack of talent in other niches. There is no problem locating, for example, web developers for hire, or dedicated mobile app developers. Consult this rating of the most popular languages (last updated February 2022) for a rough idea about talent diversity in Ukraine.
The contest results date back to 2016 and are definitely outdated. One may hesitate whether or not to hire Ukrainian developers in 2022 for short- and long-term projects considering that Ukraine is being subject to massive military aggression by Russia.
There are indeed some valid reasons why Ukraine-based developers may delay project development, for example, the constant threat of Russian long-range reactive artillery strikes, and did scare off some of the global clients of Ukrainian software development companies. The others, however, have been extremely supportive. They recognized the value of Ukrainian developers and acknowledged their struggle.
Some of the Ukrainian software development outsourcing companies relocated to the western parts of the country, while the others achieved relative safety in the nearshore destinations, such as Poland, Lithuania, Germany, and others.
The dedicated developers price in Ukraine needs a special mention.
The average Java developer salary fluctuates around $2,000-2,500, depending on the region, which is way lower than that of the US. The total expenditures on a developer hired via outsourcing/outstaffing agencies amounts to $3,000-3,500, which is still a great deal.
Hire Dedicated Developers With Voypost
Voypost implemented a special cooperation system as an intermediary between dedicated developers and clients seeking to hire dedicated developers for any kind of project.
We minimize bureaucracy during the initial stage of cooperation and leave clients in charge of the hiring process: if they wish to replace a dedicated developer we assigned to their project during the first month of employment, they are free to do so without any overhead costs.
At the same time, the client may hire the developer who'd been assigned to their project full-time, as a rightful member of their core team.

Junior Dedicated Developers
Employing a Junior developer to drive your startup venture or expand the core team is a win-win. It works because we meticulously select our candidates, leaving only the top 5%.
Lower development costs compared to working with Middle or Senior experts is but one advantage that lies at the surface.
Voypost first assigns a proficient Junior developer to work on your product and sets up the proper conditions for transparent uninterrupted communication. Then, offers an outstaffing service, enabling you to hire a developer who is perfectly familiar with the product and the related tech stack – including the relocation option. You get the chance to watch the developer as they work on your product and evaluate their performance first-hand for more than a month, which would be impossible in the case of a traditional hiring workflow.
Whether or not to employ our Juniors as a member of your core team, is completely up to you.
To reiterate, numerous productivity studies conducted since 2020 show that, in general, remote employees have been more productive at home than in the office (or, at least their productivity has not been deterred). Besides, the majority of remote employees themselves find home environments more comfortable to work from, and do not anticipate returning to offices.
For instance, the recent Upwork Future Workforce survey revealed that the total percentage of fully remote employees increased from 22.9 to 28 in a year (2020-2021); it is expected to grow further or at least stay at these levels, changing the work environment forever. The relocation option is well-justified for the sake of increased data security or to give the employees access to cutting-edge hardware and software.
And if you prefer to work with skilled long-standing members of our team without the option of permanently recruiting them as a part of your core team later – no questions asked, they are available for hire.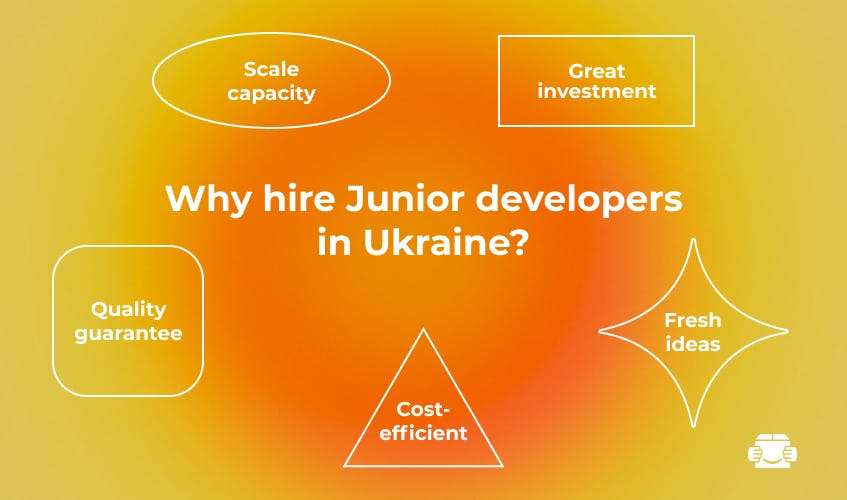 FAQ
How much does it cost to hire a team of developers?
Onshore, nearshore or offshore developers all ask for different wages for their services, so, depending on their country of residence, it could be anywhere from $500 to $10,000 or more per month per developer.
Who is a dedicated developer?
A person who is not technically a part of a certain company yet works on that company's project as if they were their regular employee.
What is dedicated hiring?
A made-up term used to stand either for the process of hiring dedicated developers in general or for a time-based pricing model (as opposed to project/milestone-based) in IT outsourcing.
Why hire dedicated developers?
Because nearshore and offshore teams and individuals are low-cost, highly skilled, and flexible in terms of scalability.