MVP for startups: a Guide for Startup MVP Development in 2023
All you need to know about building a minimum viable product (MVP) for startups, their significance, and development prices
The domain of software development is not reserved exclusively for large tech companies or startup founders with technical background. Virtually every niche in existence can and should embrace digital transformation to scale and access broader audiences.
Tech startups rely on the quality of their MVPs to the highest degree: the latter showcase the skill of the founding team and are meant to deliver core functions to early users. User backing and investments are at stake.
We are going to describe the types of MVPs for startups, explain their value, break down the stages of MVP development, and offer some advice concerning effective development (in terms of price and time frames).
Types of MVP for Startups
What is an MVP for a startup? A Minimum Viable Product is just that: about 20% of the product's functions that cover 80% of users' needs, according to the Pareto principle.
However, in regard to purpose and respective approach, there is a certain distinction between MVPs.
Low-fidelity MVPs are meant to test the waters before releasing an actual product: gather information from ad reactions, lure people to subscribe to updates and fund a future product, launch surveys, or even create an impression that actual software exists while it does not.

High-fidelity MVPs at the very least involve building a basic user interface: the back-end may not be ready yet, so the features that are meant to be automatic are performed manually.
Although it is unclear why low-fidelity MVPs are considered "products" (and are referred to as such across a number of sources), they are essentially identical to marketing efforts when it comes to descriptions.
Certain authors distinguish up to 18 MVP types for startups: 11 lo-fi and 7 hi-fi. We are not going to describe all of them for the sake of simplicity.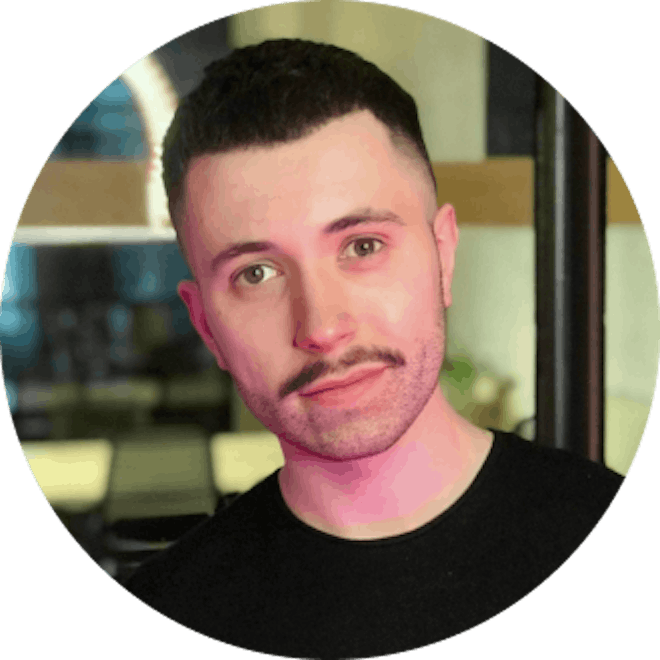 🚀
👋
Get your perfect MVP developed at Voypost
Are you looking for a way to enhance your software? There is an opportunity for you with MVP development. Start your MVP development with Voypost!
Start a MVP project
What is the value of MVP for a startup
Nine out of ten startups fail. This notorious rate forces tech startup owners and non-tech ones alike to approach the whole project with care. MVP development improves the chances to succeed for a given startup while jumping headlong into full-cycle product development diminishes them.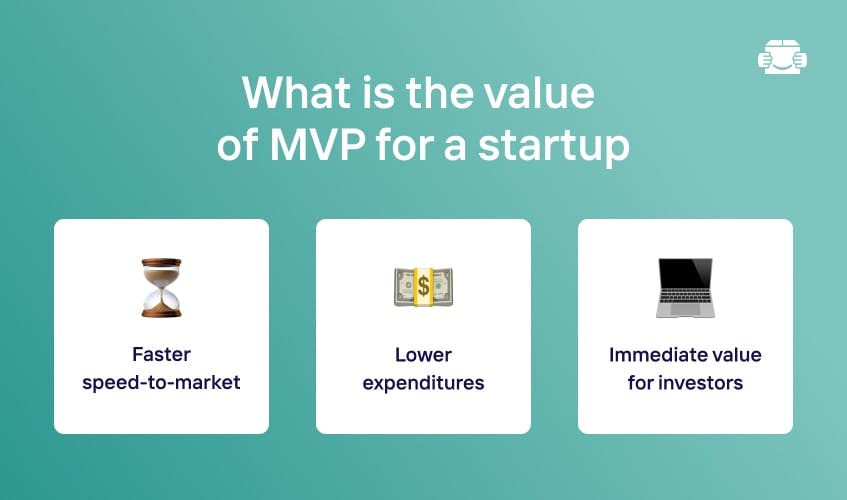 Faster speed-to-market
One of the dangers of entrepreneurship is being outcompeted in the early stages of development. This is why it is important to let users know about a certain product and the team behind it, making them anticipate its release even if the product itself is not nearly close to completion.
Lower expenditures
Both low-fidelity and high-fidelity MVPs assume spending less time and money because the final goal is not arriving at the product as it was meant to be in the final release. On top of that, there is a possibility to earn early user's subscriptions, investments, and partnerships.
Immediate value for investors
As a startup founder, one could step up to potential investors with a pitch and it would suffice. It would be better to provide some marketing data to back the idea and to demonstrate a product demo, wireframe, or prototype – or at least an engaging explanatory video, like Dropbox founders did.
Still better, demonstrating a high-fidelity MVP that has shown solid market performance so far and the only thing that keeps it from scaling is the lack of investment aid.
The stages of MVP development for startups
The stages of building an MVP in a startup correspond to the roles involved in development. Most importantly, the startup idea comes from its founder, and there must be some drafts and sketches—more or less detailed—as a product of the ideation stage.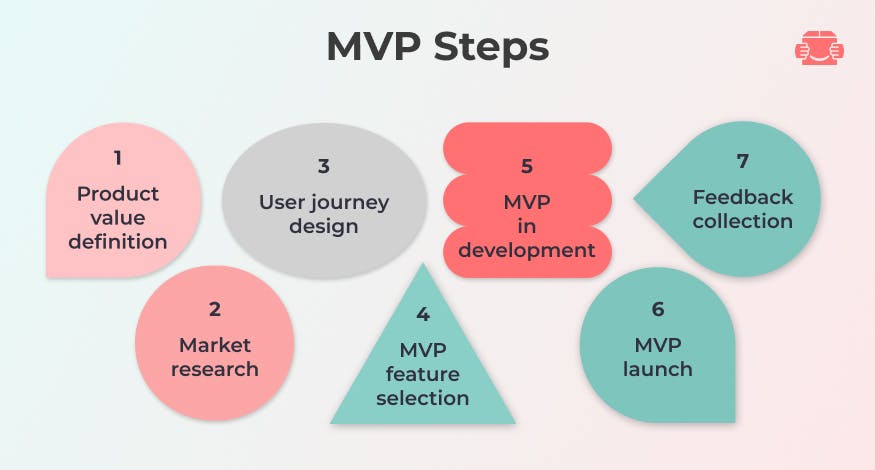 Market Research, otherwise called Business Analysis, follows to ensure that the idea is viable. There is sufficient demand for the product or service in question to make a venture profitable. And, more importantly, the founders have enough resources to launch an upcoming MVP within reasonable time.
Next, UI/UX design, and Architecture Design in general determine specific tools to be involved in development, functional elements of the app and their relations, and the app's appearance. In other words, detailing out the user journey and tech stack. Note that we've moved past the boundaries of a low-fidelity product by now.
The actual Development adheres to the structure and task backlog defined at the previous stage.
Quality assurance, otherwise known as testing, follows every incremental upgrade, and one "final" testing ensures that an MVP works well as a whole.
How to make building an MVP for startups faster and cheaper
Scarcity restricts much of startup owners' freedom of action, so they can't afford mistakes and certain luxuries available to large businesses.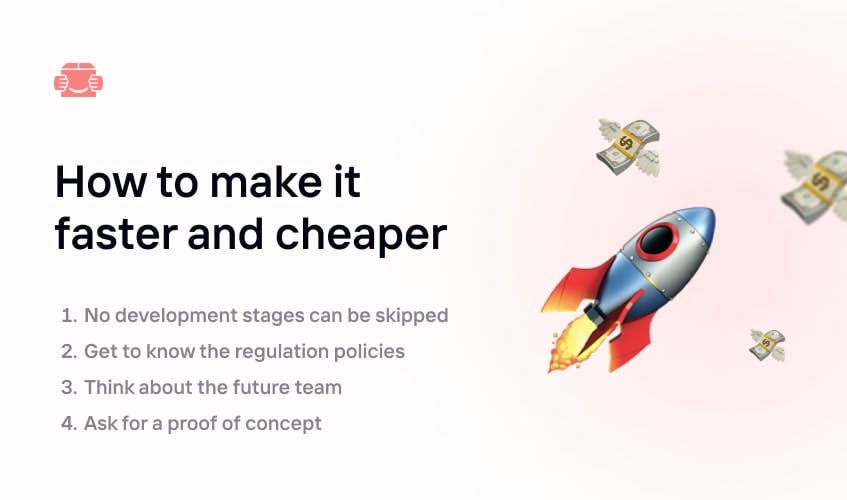 No development stages can be skipped. Follow them step by step as they are. Each stage builds upon the achievements of a previous one.

Get to know the regulation policies: the losses resulting from infringing laws that regulate your niche in certain markets might be incomparable to overall profits.

Think about the future team because the nature of a product might require more specialists than those who are currently involved in development – each stage and respective role needs at least one respective professional (or a department, if you can afford it).

Ask for a proof of concept. If you consider a remote MVP development service provider, ask them to present a quick demonstration of its capabilities.
Speaking of remote teams vs in-house teams, the former offer ultimate flexibility and set reasonably low rates, speaking of the global market at large. That said, outsourcing is nearly obligatory for startups. Every role that is missing in the core team right now, is yours for the taking. In particular, the Voypost company assembles dedicated development teams, assigns single remote developers, or fully handles end-to-end project development.
High skill of Ukrainian developers is acknowledged all over the world: the English language mastery, technical experience, and favorable conditions to international businesses make it stand out.