IT Outsourcing Services In Eastern Europe: Market Shift In 2023
How global occasions will impact the IT outsourcing services market? In this article we'll review global IT outsourcing services market shift and predict its future.
A number of articles we posted previously elucidate the outsourcing IT services pros and cons. In a nutshell:
It implies access to a huge talent pool literally worldwide.

The cost reduction goes up to 60% and higher in the best cases.

On top of the labor cost reductions, IT outsourcing service customers save on management expenditures, social and legal support, and office space rent, to name a few.

Upscaling and downscaling are faster and easier with the help of IT outsourcing companies.

Offshoring to the farthest corners of the world does not create substantial inconvenience for the customers because service providers offer acceptable cooperation conditions.
The market size of outsourced IT services had been rapidly growing up until 2019 (that is, when the COVID-19 pandemic broke out) as well as the number of companies outsourcing IT services. Even after 2019 businesses all around the world had managed to reorganize and adapt to the change, so the market continued to grow. The recent estimations claim that 5-10% growth is expected by 2030, which begs the question: is there a particularly attractive region business owners could consider for strategic cooperation?
The choice of IT provider matters most for the top outsourcing countries, such as the US and the UK, which comes as no surprise considering the scale of their economies. Their contribution, as customers, to the global IT service outsourcing landscape is huge: about 30% of the US companies fully or partially outsource their IT-related operations.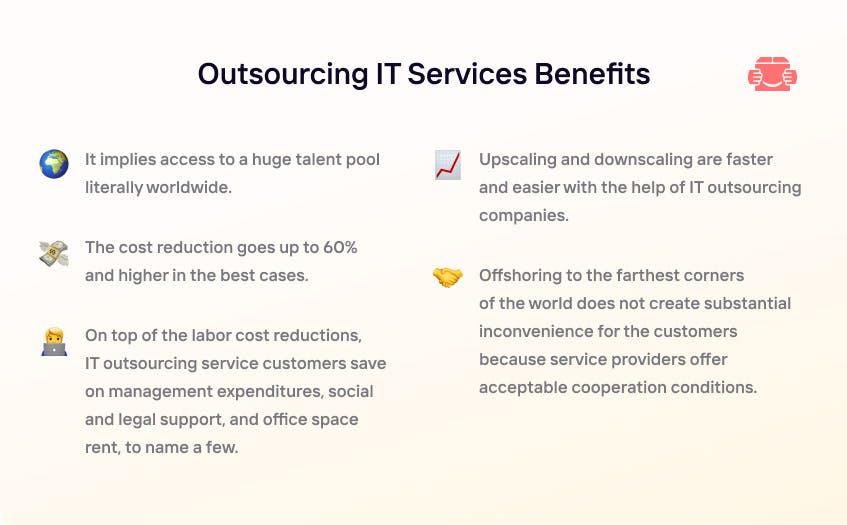 IT Outsourcing Services Market Report 2022
The IT service outsourcing sector is expected to grow for the upcoming years, regardless of the seemingly hindering factors of global quarantine measures and military crises.
In fact, the rising frequency of cyber attacks worldwide has pushed the cybersecurity industry forward – and it is not the only example.
The global IT services market is estimated to rise at a compound annual growth rate (CAGR) of 9.5% from 2022 to 2028, while the forecast for the US market settles at 9.8% for the same time span. The immediate takeaway is that the US is among the most rapidly developing hubs of IT activity in the world, and that the internal market will probably be unable to meet the rising demand for talent. Where are the US startups and established businesses going to look for IT specialists?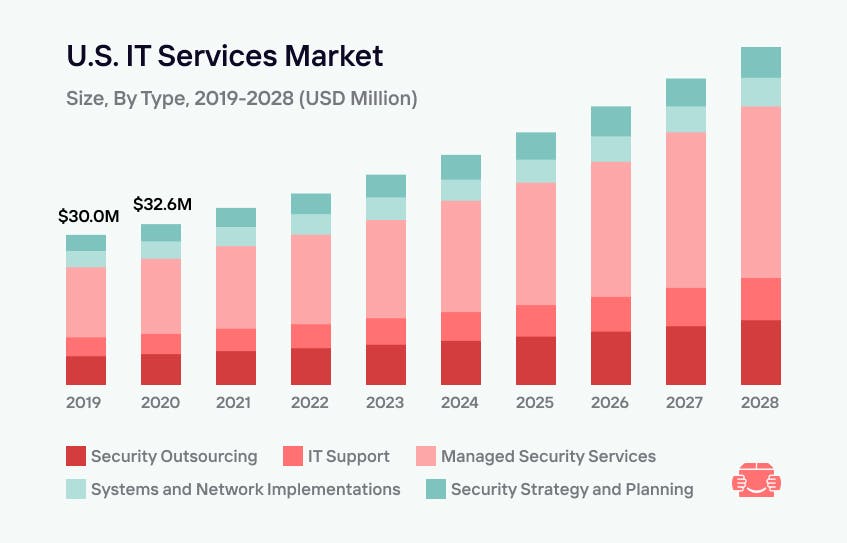 Even as the quarantine restrictions had been lifted off in some countries, the possibility to work from home stayed. The majority of business owners and HR managers acknowledged that remote employees demonstrate either no change in productivity or a noticeable improvement, which implicitly removed the difference between local employees who work from home and the remote ones from whatever part of the world.
Another source arrived at the estimated CAGR of 4.13% during 2022-2027. Evidently, the two estimations differ significantly, yet the conclusion that the market of IT services outsourcing is going to grow remains the same.
How the IT Outsourcing Services Market Will Change In 2023?
The cutting edge technologies like artificial intelligence (AI), virtual/augmented reality (AR/VR), blockchain, and internet of things (IoT) will surely drive the development of the IT industry and the outsourcing sector in particular; however, the long-standing established ones will keep gaining attention, too.
In other words, every major industry invests in digital transformation to stay competitive, one way or another.
Hashi Corp's State of the Cloud Strategy Survey and Flexera's State of the Cloud Report point out that companies are going to increase their expenditures on cloud-based services. As of 2022, cloud services already consume on average about one third of the total budget across North American and European companies.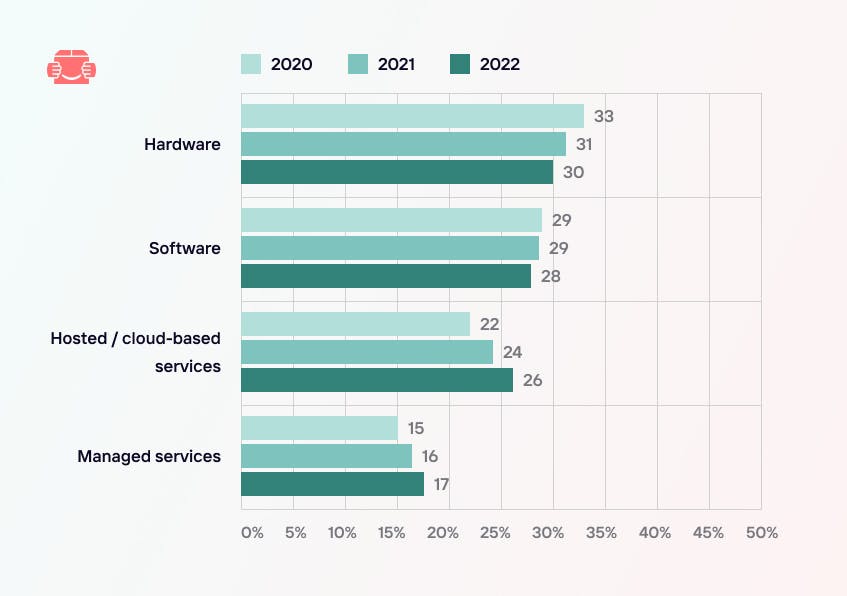 This gives a good reason to assume that the trend will remain in 2023. The survey took into account not merely cloud storage (PaaS) but Infrastructure-as-a-Service (IaaS) and Software-as-a-Service (SaaS) applications as well.
Massive changes take time until full implementation. The Russian hacker attack on the US critical infrastructure had proved that no economy, no matter how advanced, and no company is totally safe from external interventions, so cybersecurity is among the top concerns for sizable businesses, government organizations, social networks, etc.
Cybersecurity advancements have to keep up with the increased data exchange bandwidth provided by 5G communication technologies.
Various automation technologies, such as DevOps and Robotic Process Automation (RPA), had seen a dip in development during the pandemic but now reclaim the pace of development and popularity. Although we got used to the idea that only fundamentally similar repetitive actions can be automated, AI and Machine Learning (ML) applications extend the possibilities of automation tools with a shade of creativity.
Concerning the structure of the workplace itself, hybrid teams are here to stay even though the effects of COVID-19 wane.
Impact Of Global Crises On The IT Outsourcing Services
In spite of global crises that the world has not seen in many decades, the outsourced IT services are in demand and the IT companies' budgets continue to grow overall.
It goes without saying that the recent pandemics had shaken the world economy, but the military crisis that began with the full-scale Russian invasion of Ukraine introduced a challenge that humanity had not dealt with since the WW2 or Caribbean Crisis.
Iran is on the brink of democratic revolution while Afghanistan and Myanmar, on the other hand, were overtaken by militarists. In the long run, it will have significant implications.
China is still in complete lockdown, and the conflict around Taiwan does not seem completely settled. The latter factor contributes to the global semiconductor shortages.
Contrary to what one would expect, most IT outsourcing companies gain momentum – provided that they grasp the right market sentiment, of course.
Ukraine, in particular, has gained massive support beyond cold "rational" predictions.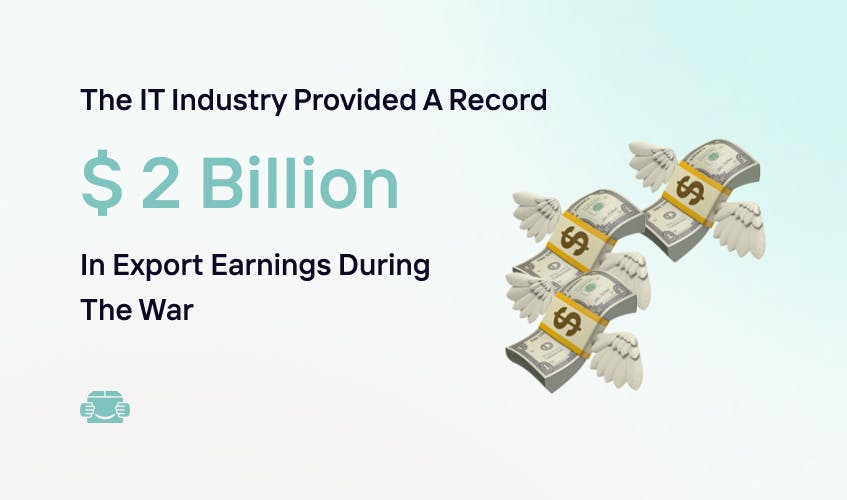 IT Outsourcing Services in Eastern Europe
The diversity of IT-related professions and the rising demand for them create an unprecedented talent shortage. The job market is starving, which, in turn, perfectly explains the IT professionals' salary rates that are way above the average. As you can see, multiple accounting agencies see no possibility that this trend will revert, so the situation with expensive and scarce IT talent will only worsen in time. Knowing that, business owners are pressed to find and hire the right remote staff earlier.
Of all the places on earth, how Eastern Europe is different?
It presents attractive pricing conditions compared to West Europe but does not come with a serious cultural or ideological gap as some Asian countries. The time zone difference is negligible. The service providers have adapted to the market in such a way that all business sizes can find a perfect cooperation mode: a single specialist with a perspective of employment and relocation or temporary IT department outsourcing on par with a customer's core team – everything is possible in this regard.
Eastern European outsourced IT services for small business attract the customers primarily with the prices: the difference between the German companies, for instance, and the Ukrainian ones is easily noticeable.
As for the tech giants, they are perfectly aware of the difficulties connected to selection, hiring, nourishing, and retention of talents. So when they find the right team, the price is really not the primary concern: scalability, speed-to-market, and professionalism is. Even if outsourcing of IT services to Eastern Europe were not financially expedient, large businesses would still go for it.
We consider Baltic States, Ukraine, and Poland as the best countries to outsource software development in Eastern Europe.
Top IT Outsourcing Service Provider Countries in Eastern Europe Comparison
Eastern Europe, as opposed to the Western and Central parts, is particularly interesting as a source of IT talents because it indeed is the best region for nearshore and offshore outsourcing, based on affordability, ease of communication, and most importantly, skill and experience.
IT Outsourcing Services in Baltic Countries
Lithuania, Estonia, and Latvia are relatively small countries that nonetheless greatly contribute to the development of IT outsourcing in Eastern Europe.
All three countries are roughly the same size, and the talent pool that they offer to the world, in numbers, is similar, too: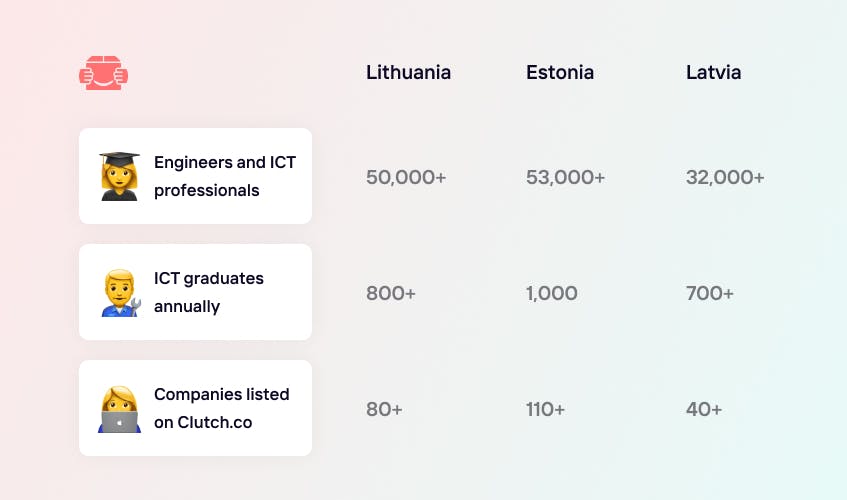 As for the abilities of their IT providers, judge for yourself: Google, Nasdaq, AIG, Uber, IBM, Wix, HP, Microsoft, SAP, Acronis, Parallels, PwC, Accenture, KPMG, Siemens, and others have chosen to open their research and development centers in these countries at certain points in time.
Even though the Baltic states have built a remarkably successful infrastructure for software development outsourcing, they have a lower overall IT outsourcing country ranking compared to Poland and Ukraine as of now – perhaps solely due to the difference in population.
Tech Talent Pool & IT Outsourcing Services In Poland
Regarded as the largest IT outsourcing hub in Europe, Poland is certainly an attractive destination for offshore companies. This extensive research, dated 2020, suggests that the development of the Polish IT sector by 2030 will be beyond imagination, just its current state was unimaginable a couple of decades ago.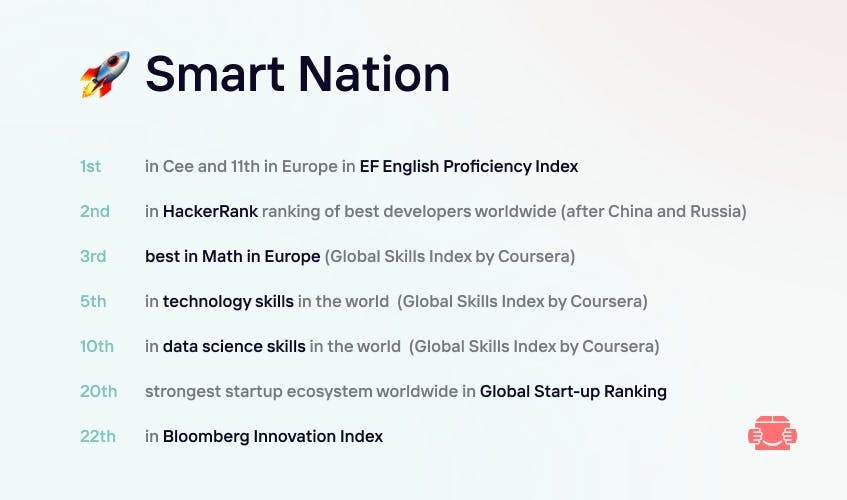 More than 400,000 Polish professionals are available on the market, and more than a half of all tech talent work for export, i.e., provide IT services for nearshore or offshore customers. 20% of all IT professionals in Central and Eastern Europe reside in Poland, which means that the underlying conditions (education, equipment, regulation, etc) are simply great there.
There are a lot more numeric characteristics that can describe the proficiency of Polish developers: Kearney's Global Services Location Index (GSLI) 2021 alone is worth a look.
Ultimately, product owners who look for IT outsourcing software companies should adhere to specific selection parameters, and narrow down their search accordingly. For example, Poland scored #1 in a competitive Java programming test held by HackerRank, also making it to the top-5 in a number of other disciplines. This little fact adds up some confidence to an HR manager who looks for freelance Java developers in Poland.
Tech Talent Pool & IT Outsourcing Services In Ukraine
Ukrainian IT outsourcing services market withstood the Russian invasion and the subsequent martial law restrictions, demolition of critical infrastructure, army draft, mobilization, and massive relocation of IT company personnel. It did not simply persevere the Russian onslaught, it demonstrated the record $2 billion export earnings during the first quarter of 2022, compared to 1.44 B in 2021. Ukrainian IT outsourcing service companies keep acquiring new customers and anticipate to engage even more.
The loyalty of customer companies is not the only explanation for Ukrainian IT services outsourcing companies' success: in fact, some of the customers have dropped cooperation in favor of cheaper, South Asian, providers or out of fears that war would disrupt the normal cooperation.
The sheer number of Ukrainian IT outsourcing companies listed on Clutch is second only to Poland (421 against 533 at the time of writing), and it is higher than that of any other Eastern European country.
The diversity gives product owners enough leeway to choose the IT outsourcing service provider with appropriate reputation and portfolio samples.
Notably, Ukrainian developers have gained worldwide reputation for mastery in digital security, which has been proved under the pressure of Russian cyberattacks.
Gaming, website development, distributed systems, mathematics, big data, automotive industry, hi-tech healthcare applications, cloud, embedded, IoT, artificial intelligence, blockchain, digital assurance – the IT service landscape in Ukraine is vast and diverse. It encompasses all of the trending technologies we formerly mentioned.
The veterans of software development, such as ELEKS or SoftServe were founded in Ukraine and have been driving the industry forward since the 90s. Today, international software development giants like GlobalLogic and Luxoft form its backbone together with the native companies.
Funnily, Poland nearshores software development to Ukraine, too: Proziff, for one example, has its department in Lviv.
Poland vs Ukraine IT Outsourcing
Both Poland and Ukraine are consistently spotted at the top positions of various rankings and analytic reports. Digital innovation, favorable conditions for business activities, the number of STEM education institutions, programmer's proficiencies, and many other factors were taken into account, with a total score being slightly in favor of Poland. Nonetheless, Ukraine excels in quite a few dimensions that we mentioned above.
The fact that Poland is a member of the EU implies that its companies and professionals have access to better state backing programs and the benefits of sharing the economic space with the Union. As a neighbor to the centers of European industry, such as Germany, Poland has a correspondingly developed IT infrastructure.
As a downside, it also implies that IT outsourcing costs in Poland are higher compared to Ukraine.
It goes without saying that putting the needs of a certain business first is natural for a person who looks for an IT outsourcing provider. Yet more often than not, an ethical decision in business is also a profitable one. Every time the international community buys Ukrainian goods and services, the economy at large receives a boon, which, without exaggeration, saves lives.
In all honesty, the outsourcing IT services risks remain high in Ukraine due to all kinds of damage and suffering inflicted by the Russian state even though the industry does well against all odds.
Any contribution, no matter how big or small, is going to help Ukraine and its brilliant IT outsourcing sector to withstand the ongoing aggression.
FAQ
Why Eastern Europe is good for IT outsourcing?
Software developer rates tend to rise farther to the West, and the level of skill and experience remains roughly the same: customers find Eastern Europe the best of two worlds when it comes to the balance of quality, expensiveness, simplicity of communication, and international law implications.
What is the best country for software development?
Depending on the project priorities (speed/quality/price) and technical details, product owners individually choose what is best for them. Yet some countries are recognized as outstanding IT service hubs worldwide based on tech talent abundance, skill, and affordable rates. Namely, Poland, Ukraine, Latvia, Lithuania, and Estonia are such countries in the Eastern Europe region.
How many IT professionals are there in Ukraine?
285,000 IT professionals were registered in Ukraine by the end of 2021.
Is Ukraine good for software development?
The four countries that come to mind in relation to IT outsourcing are India, Ukraine, China, and Poland, so Ukraine is not merely good, it is one of the best countries for software development even in the face of Russian aggression.
Recommended Readings: