Pricing models comparison: Fixed Price vs Time and Material
Time and Material vs Fixed Price: Which payment model to choose for cooperation with a software vendor?
Maria Shapovalova
May 06, 2022
Business owners and startup founders look for the cheapest possible ways to achieve their market goals. Software development is a particularly sensible topic in this regard: it is in high demand, expensive, skill-intense, and absolutely necessary to reach and engage ever larger target audiences.
The best pricing model for software development outsourcing tasks boggles the minds of those who prepare to sign their first contract.
What is a pricing model?
In general, any commercial activity is carried out in strict accordance with predetermined agreements. The payment conditions must be unambiguous and clear, or else unnecessary disputes will arise during or after the job is done.
Here is a pricing model example. For a simple one-time gig, like food delivery services, a delivery boy receives a fixed payment and an optional tip. It is a fixed price contract example. A taxi driver, on the other hand, is paid depending on the distance they have to travel plus for every minute they have to wait for their client before picking up. It is a time and material contract example. The other different pricing models can be seen as modifications or crossovers between these two.
Software development is more complex than that, as you can imagine; it can involve departments and teams or solo developers. It is important to keep pricing models simple, and these two are the most common and straightforward.
What is the fixed price model?
As the name implies, the parties involved agree upon the set price if specific milestones are met. It is easy to come across the examples of milestones on any online job platform like UpWork.
How does the fixed price model work?
Both the price and the development time frame are set before the project starts. Larger projects might be broken into chunks, each with its own deadline and requirements. Otherwise known as the incremental development model, it would result in the finished barebone application prototype at the first stage of development then gradually evolve up to the buyer's expectations – if they are content with the product quality so far.
Fixed price contract pros and cons
The list of product features must be exhaustive and unambiguous; a buyer's commitment to keep the list unchangeable must be ultimate. This list will be a point of reference in case things go awry and the need for a dispute arises.
Suppose that you realize that your app needs a crucial feature – one month into development. Except that you can't ask for product alterations if you went for Fixed Price.
In the best-case scenario you'd have to wait until the contractor team finishes the current iteration of your app.
There is an option to reward a developer (a team) with extra pay if they finish the job earlier.
However, if a contractor fails to finish the project in time, heavy penalties will incur for wasting the buyer's time and failing to meet expectations.
The risk of penalties is what makes developers cautious of the fixed price contract model. They must be 100% sure that what they work on is what the buyer meant. It is also possible that what is perceived as an ordinary two-week errand spans much longer due to a previously unnoticed snag. It could be, for example, buyer's hardware, updates that break backward compatibility and cross-compatibility, etc.
A buyer, on the contrary, enjoys fixed deadlines and price, little to no management, and protection according to the contract.
Fixed price model use cases
Fixed price contract is great for Minimum Viable Product (MVP) development and other small projects, especially if the deadline matters.
It only works if the product features are fully written out in a comprehensive and structured format.
What is the time & material pricing strategy?
In simpler words, the time and material contract is an hourly rate or a pay-as-you-go model. It is also comparable to a plain salary. The payment frequency and the ways to pay for labor are subject of negotiation.
How does the time & material model work?
The parties agree upon the project scope and the tech stack in general terms, negotiate the payment conditions and proceed with the development process. The buyer's and the contractor's teams must constantly be in touch to sync up and make amendments or clarifications to the project's goals.
T&M contract pros and cons
There is a bit of confusion stemming from the crazy price range. Do those who charge $300 per hour work ten times faster on the same task than those who charge $30? Sometimes, indeed, they do, and seemingly lucrative business deals result in frustrating overheads.
Speaking of time and material vs fixed price level of effort (from the contractor's side), it is really a wildcard. Choose a trusted service provider with a relevant portfolio and positive feedback.
Therefore, the buyer is at a larger risk compared to the fixed price model. By the time the project is finished, the final bill can be literally anything. The time estimations suffer, too.
On the other hand, Time-and-Materials gives full freedom to change product requirements on the go. The buyer doesn't have to bother about defining rock-solid application documentation before their contract commences. It is convenient to sustain long-lasting projects, rapidly shift priorities, react to market challenges or opportunities, and so on.
T&M use cases
T&M works best for mid-sized and large projects that need attention and flexibility.
Serious software requires hours of testing. It takes its toll on the equipment, and if a contractor uses their own equipment, they are right to expect compensation.
Any expensive tools, expendable materials, and paid software must be considered, too. The expenditures may be negligible short-term but in the long run (months and years of development), the buildup becomes noticeable.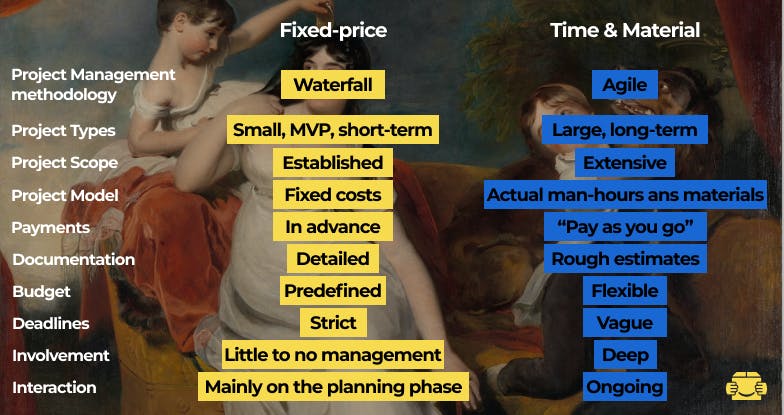 How to outsource software development – preferring fixed price or hourly rate?
The pressing question for outsourcing companies is, which pricing model helps to cut down the cost of outsourcing without sacrificing quality and minimizing risks?
The general consensus is that the fixed price contract puts more responsibility and risk on your outsourcing partner's shoulders. Eventually, you either get the product you asked for, in time or get compensated by the service provider itself.
At the same time, keep in mind that the time & material requires close control. Otherwise, the team might be tempted to delay the work they could have finished earlier and bloat the total software development outsourcing cost.
In any case, be adamant in your choice of the pricing strategy and ask your provider for solid guarantees should unpredictable failures incur. It is always a good idea to run a small meeting with a software development outsourcing company that caught your attention. We could offer an online consultation concerning that matter, too. Wanna get in touch?
FAQ
What should be included in a software development contract?
An exhaustive description of services that were agreed upon, the pricing model, the accomplishment criteria and project milestones, product licensing and property rights, and NDA are the necessary points to include in the contract.
What is the advantage of time and material pricing?
This model is flexible and allows for more flexibility for both sides of a software development contract. The development process can stop at any stage if the parties' expectations are not met.
What does non-fixed price mean?
If other variables affect the pricing than the fact of the project's accomplishment – the pricing model is considered non-fixed. Various non-fixed pricing models exist.
What is an example of a fixed price?
Fixed price is a flat fee for a certain good or service; it is mutually agreed between the parties (customer and provider) that the fee won't change depending on time and resources involved in production.
What is the difference between fixed price and time and material?
In a nutshell, the fixed price payment model entails unchangeable, per-project remuneration for labor. The T&M contract takes into consideration the expendable materials and time spent.
Recommended Readings: